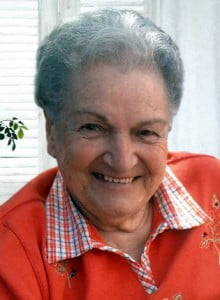 Graveside services for Ruth Marie Potts Weldon will be held at 11:00 a.m., Thursday, April 2, 2015, at the Mountain View Cemetery, Mountain View, Missouri.
Ruth died Saturday evening, March 28, 2015, at West Vue Nursing Center, with loving family at her side.
She was born January 11, 1922, at Springfield, Missouri, and then moved to Mountain View, where her parents Dr. Albert Franklin and Mary Anna Hayes raised her, along with her three brothers.  She was a rambunctious child who loved running through town, occasionally bathing in mud puddles and providing a constant source of amusement and disciplinary "challenges" to her parents.
She graduated from Mountain View High School with the Class of 1939. She loved her classmates and regularly attended class reunions into her late 80s.
Shortly after graduating she married her high school sweetheart Isaac Joshua "Josh" Potts, of Van Buren, Missouri. The couple eventually settled in California where she worked as a switchboard operator for Bell Telephone Company for more than 20 years. She later moved to northern California where she worked for FMC Corporation, a food machinery and military tank manufacturer, until she retired in 1987.   A few years later, she relocated back to Missouri to live in Van Buren. She and Josh enjoyed RV trips to the Western states and collecting Native American Indian art.  Ruth had an enthusiasm for life and a playful charm that brought joy to all those who knew her. She enjoyed travel, live musical entertainment and time with friends and family.  Although she did not have children, her nieces and nephews adored her. Her niece Pam Hessee, of West Plains, Mo., was her primary care giver in her later years. She also had a special place in her heart for animals particularly her late cat Katrina.  She was extremely loyal to those she loved. The love, laughter and joy her life brought to others will be her legacy.
She is survived by her nieces Pam Hessee, West Plains; Ruth Ann Hensley and husband, Joe, Grapevine, Texas; and Mary Ann Hayes, Cocoa Beach, Florida.; and her nephews Jerry Hayes and wife, Anita, of Simi Valley, California; and James Hayes and wife, Gretchen, of Harrisonville, Missouri; and two great-nieces and two great-nephews.
The love of her life, Josh Potts, parents, brother Robert Hayes and wife Melba; brother Frank Hayes, and brother Dr. Jack L. Hayes and first wife, Glenda, formerly of West Plains; sister Louise Hayes; nephew Jeffrey W. Hayes, great-nephew Neil Hayes and numerous friends preceded her in death.
Memorial contributions may be made to the West Vue Nursing Center or the American Macular Degeneration Foundation and may be left at Robertson-Drago Funeral Home.