Scott Cawvey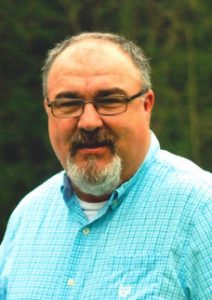 Graveside services for Scott Cawvey, 49, West Plains, Missouri, will be held at 2:00 p.m., Sunday, November 8, 2020 at State Line Cemetery, under the direction of Robertson-Drago Funeral Home.
Mr. Cawvey passed away at 4:10 p.m., Tuesday, November 3, 2020, at West Plains.
He was born February 7, 1971, at West Plains, to Renee Hoopes Cawvey and the late Michael Gerald Cawvey.  Scott graduated from West Plains High School with the Class of 1989. He was married to Nita Lawrence on September 24, 1994. He was the father of Michael Scott (Scotty) Jr. and Ann-Renee. Other than hauling hay in the summer, his only employment has been with the family-owned business, Cawvey's Electric Motor Service over thirty years.   Scott enjoyed the camaraderie of hunting, a brief stint as a team roper, outdoing his father-in-law with his tomato crop, and his cab tractor with the air conditioner blowing and Cardinals baseball on the radio. He took great pride in being an Uncle to so many and letting them know in which order he liked them from best to least when they were together. He loved his running dogs, coyote hunting, and his herd of cattle. Scott was always an entertainer and loved his two weeks at Deer Camp each fall with the menu planning and cooking for the entire gang. Above all of these favorites were his children. Ann-Renee is sure she was his favorite child because she inherited his fun sense of humor, his looks, and the fact he loved having her spend his money. Scotty is sure he was the favorite because he was known for being polite, he inherited his dad's strong work ethic, and the fact Scott could count on him to feed his dogs and do other chores on the farm. Scott was so proud of getting both a new son and daughter-in-law this Spring. He knew Ashley was a keeper when she chose to drink milk at meal times, her adventurous food spirit, and her skills with makeup amazed Scott. Noah was a keeper when he walked into our home and instantly made himself comfortable by scrounging through the cabinets and refrigerator and simply for being the world's coolest son-in-law ever.  Scott was a member of The Church of Jesus Christ of Latter-day Saints.
He is survived by his wife, Nita Cawvey; his two children and spouses Scotty and Ashley Cawvey, West Plains, and Ann-Renee and Noah Lawson, Springfield; his beloved mother, Renee Cawvey, West Plains; his only surviving sibling, Michelle Wood and husband Shane, West Plains; his father-in-law and mother-in-law Ed and Vickie Lawrence, West Plains; sisters-in law and brothers-in-law, Nancy and Bob Foulke, Cassville, Missouri; Jerrod Lawrence, West Plains; Mariah and Jason Hayes, West Plains; his dear Uncle Gary (Fuzzy) Cawvey, West Plains; several cousins, great-aunts and uncles, many dear friends; and those that called him Uncle: Cierra, Michael, Ryan, Cole, Cameron, Clay, Cutter, Jaxson, Bristol, Ashby, Evan, Jud, and Jetty.
His father, Mike Cawvey; his brother, Stacy; his sister, Shawna; maternal grandparents, H. Reneer and Gladys Hoopes and paternal grandparents Gerald and Laura Jean Cawvey, precede him in death.
Visitation services will be held from 5:00 until 8:00 p.m., Saturday, at Robertson-Drago Funeral Home. Memorial contributions may be made to St. Jude's Children's Research Hospital or Foundation Fighting Blindness and may be left at or mailed to Robertson-Drago Funeral Home, 211 West Main, West Plains, MO  65775.