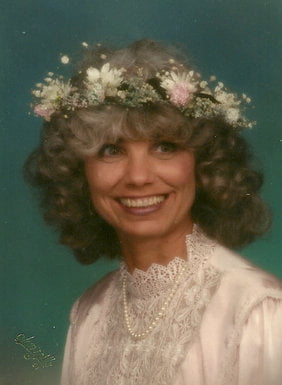 Sharon K. Hinds 71, passed away peacefully in the arms of our Lord at 3:00 am Friday, September 26, 2014 at her home in West Plains, Missouri, surrounded by her family. She was born August 9, 1943 in Poughkeepsie, Arkansas to Jimmy and Louise Crafton.
After graduating from West Memphis High School, West Memphis, Arkansas in 1961, Sharon attended Freed-Hardeman College in Henderson, Tennessee where she received her Business degree. She worked in Memphis as a legal typist and bookkeeper while she earned her court reporting certification. Sharon was co-owner and an officer of Alpha Court Reporting Corporation in Memphis until 1991, when she retired and sold her business interest to her partner. Some of her favorite stories about her court room experiences involved her time in the renowned Judge Joe Brown's court.
She married Greg Hinds on January 9, 1991 and relocated to Pinewood–Sour Lake, Texas. They bought their retirement home in West Plains and were in the process of permanently moving when Mrs. Hinds became ill. At her request, her family brought her home for her final days after treatment at M. D. Anderson in Houston, Texas.
She was a lifelong member of the Church of Christ. She and her husband Greg were generous patrons of her favorite charity, St. Jude's Children's Hospital, Memphis, Tennessee.
She is survived by her husband Greg, her sister, Olivia Zinn and husband Jim of West Plains, her nephew David LaFevers of Columbia, Missouri, his son Payton of West Plains, and many Arkansas and Tennessee aunts, cousins, nieces and nephews.
She was preceded in death by her parents, Jimmy and Louise Crafton of Strawberry, Arkansas, Maternal grandparents, James and Cora Smith, Poughkeepsie, Arkansas, Paternal grandparents, Elvie and Effie Crafton, Strawberry, Arkansas, and many aunts, uncles, and cousins.
In her spare time she enjoyed golf, sewing, all kinds of crafts, painting, and her online card design club group. She was funny, creative and a true friend who cherished every friendship she ever had. Sharon was admired, respected, and trusted by her family, friends, employees, and business associates.  Sharon was a tender hearted, giving and generous caregiver for family, friends and her beloved pet Misty Bleu, her 3 pound Teacup Poodle.  Her smile lit up her whole face and she never met a stranger. One friend wrote "She will indeed be a beautiful angel … she has had a lifetime of practice caring for others."  She will be remembered as a devoted wife, beloved sister, and true friend.  Her memory will live on forever in the hearts of those of us who loved her.
A memorial celebration of her life will be planned for a later date.
Memorial contributions may be made to St. Jude's Children's Hospital, and may be left at Robertson-Drago Funeral Home, 211 W. Main St., West Plains, MO 65775 .