Sharon Ruth Swenhaugen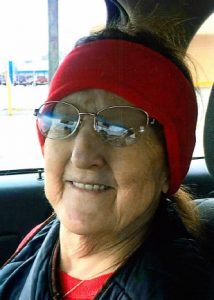 Graveside services for Sharon Ruth Swenhaugen, 73, Pottersville, Missouri, will be held at 2:00 p.m., Saturday, May 16, 2020 at Pottersville Cemetery.
Mrs. Swenhaugen passed away at 2:52 a.m., Thursday, May 7, 2020, at her home. 
She was born March 8, 1947, at Modesto, California, to Cecil Ivan Conway and Vern May Palmer Conway.  On June 30, 1990, she was married at Emerald Piont, California, to Michael Swenhaugen.  Mrs. Swenhaugen was a Christian and enjoyed gardening, flowers and collecting Garfield memorabilia.
She is survived by her husband, Michael Swenhaugen, of the family home; four children, Louwanna Smith and significant other, Bruce Drussell, West Plains, Missouri, Raymond Dempsey Smith, Twin Bridges, Missouri, Caroline Fowlkes, Salem, Arkansas and Elizabeth Norris, Salem, Arkansas; four grandchildren, Kevin Jackson and wife, Nikki, Felicia Nicole LeAnn Mock and husband, Tracey, Delaney Elizabeth Smith and Luther Dempsey Smith and special friend, Brooke Griffin; three great-grandchildren, Jacob, Grace and Emily; one brother, Rudy Conway, Ceres, California; one sister, Barbara Bishop, Modesto, California; and special friend and caregiver, Pammy Smith.
Her parents and five sisters preceded her in death.
Arrangements are under the direction of Robertson-Drago Funeral Home.