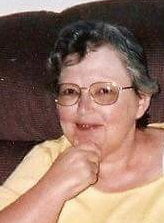 Funeral services for Sherwina Ann Conley, 74, West Plains, Missouri, will be held at 1:00 p.m., Sunday, July 10, 2016 in the Rose Chapel at Robertson-Drago Funeral Home.
Mrs. Conley passed away at 6:27 p.m., Tuesday, July 5, 2016 at Ozarks Medical Center.
She was born March 14, 1942, at Springfield, Missouri, to Robert L. Clifton and Edith Brunson Clifton.  Sherwina graduated from Hillcrest High School, Springfield, Missouri, with the Class of 1959.  She was married June 6, 1960, at Fordland, Missouri, to Denney Conley.  Sherwina enjoyed crafting and knitting.  Mrs. Conley was a Christian.
She is survived by her husband of fifty-six years, Denney Conley, of the family home; six children, Denney Conley, Jr., and wife, Angie, State of South Carolina, Patricia May and husband, Stoney, West Plains, Missouri, Tim Conley, Sacramento, California, Elizabeth Kirchner and husband, Paul, State of Kansas, Matthew Conley and Glenn Conley, both of Sacramento, California; seventeen grandchildren and thirteen great-grandchildren.
Her parents, one son, Michael Joseph Conley and one great-granddaughter, Kristina, precede her in death.
Visitation will be from 6:00 until 8:00 p.m., Saturday, at Robertson-Drago Funeral Home.  Memorial contributions may be made to the Vietnam Memorial Wall and may be left at Robertson-Drago Funeral Home.