Steve Wright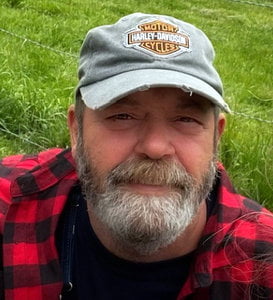 Sunday morning July 25, 2021, Steve Wright, West Plains, Missouri, suffered a severe heart attack while driving on Highway 14. He subsequently was rushed to Ozarks Medical Center where later that night he was pronounced dead while his three daughters and wife surrounded him.  His 57 years on this earth came to an end on the night of July 25th.
Stephen P. Wright was born on March 11, 1964 to Paul and Minnie (Honeyfield) Wright in Randle, Washington. He joined the US Army at 17-years-old where he served 9 1/2 years. He determined to leave the Army and put down roots in West Plains when he purchased the back acres of his uncle's dairy farm. He married Terri (Mahanes) Wright on September 12, 1992 and built a family, career and life. He had many different occupations until he took a job that paid less than his unemployment check, but he deeply believed that job taught him the skills he needed to create his own business. Him and Terri formed Wright's Disposal in 1997 and sold it in 2000. In 2003, they started another Wright's Disposal in Joplin, Missouri. They operated that business until July 16, 2021. They raised 3 daughters –Shayla (Kawallek) Harrison, Missy (Ellis) Henson, and Shelby Wright. Shayla and her husband Jake have 3 children –Kael, Tripp, and Leif. Missy and her husband Coty have 3 children –Mason, Makenna, and Camden. He passed down his love for motorcycles, guns, and doing the right thing to his daughters and grandkids.
He was preceded in death by his father and is survived by his mother, wife, daughters, grandchildren, his sisters –Shauna Wright-Regas, Mary Jaspersen– niece, numerous nephews (and family).
Steve's celebration of life will be on Saturday, August 7, 2021 at 10:00 AM at the family home. The Honor Guard will send off the final salute as this soldier is cleared from the battlefield.
Arrangements under the direction of Robertson-Drago Funeral Home.