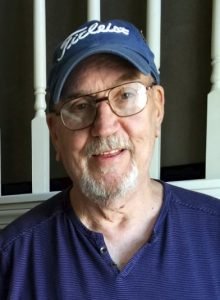 Memorial services for Steven Douglas Hickman will be held from 4:00 until 6:00 p.m., Saturday, February 23, 2019 at the West Plains Senior Center.
Steven Douglas Hickman, 71, West Plains, Missouri, passed away at 7:00 p.m., Friday, February 15, 2019, at his home.
He was born January 12, 1948, at Kimball, Nebraska, to Donald and Mildred Hickman.  Mr. Hickman was a veteran, having served with the United States Marines.  Before his retirement, he worked at Regal-Marathon Electric.  He loved his family, his grandsons and his dog, Luke.  He enjoyed golf, hunting and fishing.  Mr. Hickman was a Christian.
He is survived by two children, Erin Shirley and husband, Aaron, Kansas City, Missouri and Adam Hickman and wife, Bethany, Beloit, Wisconsin; and two grandchildren, Will and Owen.
His parents and one brother, Donald Hickman, preceded him in death.