Steven Kent Thompson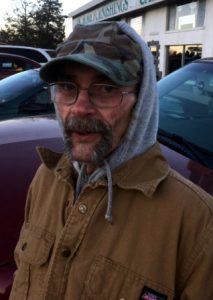 This will not be a conventional obituary because these are not conventional times, and the man about whom this is written was not a conventional man.
Steven Kent Thompson, 61, West Plains, Missouri, beloved father of Buddy Ray Thompson, entered into eternal rest on Thursday morning, March 26, 2020, surrounded by his loving family and ministers of the Christian faith.
In life, Steven might have been regarded as a simple man, but to think that was the sum of him would be a mistake. He was a complex soul whose complexity may have been easily hidden or overlooked except by those who knew him best. Without an advanced degree, he was a marvel of a mechanical engineer. There was nothing he could not ponder and study and figure out the workings of. He was a deliberate and studious man, but he did not often study in books. In life, some might have regarded Steven as unchurched, but he lived and breathed every day in the natural cathedral God created. He had a special appreciation of God's world and the creatures in it and enjoyed a remarkable bond with his animal companions. He loved doing almost everything that a person can do outdoors. He had gifted hands to do the bidding of his mind.
Steven was born on Monday, August 25, 1958, at Christa Hogan Hospital in West Plains, Missouri, the son of Laurel Ray and Margaret M. Thompson. From an early age, he shadowed his maternal grandfather, from whom he learned the basics of carpentry, and his dad and adored uncles. His imagination was filled with bulldozers and diggers and other big machines. He spent long hours and hot summer days operating imaginary machinery in the yard, until he began working on real machinery such as his bicycle and, later, an ancient Cushman scooter he rebuilt from the frame up, then a Honda motorcycle, and later still, his 1982 3/4-ton Chevrolet truck. That old truck was the last machine he worked on before he fell ill.  Steven was never afraid of hard work. His first job was delivering newspapers for the West Plains Daily Quill, back when paper boys were a chattering, yelling, ink-smeared subculture of our community, those boys who popped wheelies on their bikes outside the newspaper building as they waited for the day's news to be ready to stuff and roll into tight cylinders to be thrown on front porches all over town. He made life-long friends in his years at the Quill, both among his co-workers and the subscribers he served.  Much to his parents' relief, Steven graduated with the West Plains High School class of 1976. Auto-body and shop classes were probably the only things that got him through those high school years. Decades later, he was likely the only graduate who not only still owned, but could still wear, the plaid sport coat that he wore then (never mind the polyester pants). Without question, Steven lived by the maxim "waste not, want not" or, better, "use it up, wear it out, make it do, or do without." It was just in his nature. Metal odds and ends, nuts and bolts, odd engine parts, and pieces of angle iron were filled with possibility for him and might one day be useful. Often, they were. He was a mechanical visionary.  Following his paper-boy years, Steven worked as a parts man at Smith Auto Parts, on the line at International Shoe Company, in various positions at Marathon/Regal-Beloit, and as a self-employed small engine repairman and welder. Sometime in his manufacturing years, he became known for wearing cut-off jean shorts (the pockets hanging down below the cut) with combat boots. He cut quite a figure, as he always did have legs prettier than any man deserves. As a self-employed mechanic and artisan, he kept many lawnmowers and a lot of landscaping equipment and lawn tractors in service. He made feed bunks. He crafted wind chimes. He welded fencing for private homeowners and a local church. He even built the forms for a coral reef display in a far-away aquarium. He kept careful accounts, but it is certain the numbers in his notebook never reflected the full value of his work. He was a reliable and steadfast friend, ready to help when and where needed, asking nothing in return. He was steady, gritty, and fiercely independent. He kept his own schedule and his own counsel, attributes that were as endearing as they were sometimes frustrating to others. He never told a story in a hurry. His accounts were filled with deliberative silences bridged by small portions of abundant detail delivered in a slow drawl. A phone conversation with Steven could be an exercise in mindfulness, focus, and patience. He was always himself and he was dearly loved.
Steven never wavered in his devotion to his son, Buddy, who with his wife Jama and two daughters, Braylen and Lilly, survive him. He is also survived by his parents, Laurel and Margaret Thompson, West Plains; two brothers, Jim Thompson (Sarah), West Plains, and Russell Thompson (An), Soddy Daisy, Tennessee; one sister, Vickie Petkovic, West Plains; and many nieces and nephews.
He was preceded in death by his grandparents, Thomas E. and Ivy Morrell and Earl H. and Faye Thompson; one sister, Sherrill A. Thompson; and one nephew, Jeffrey Scott Thompson.
The family plans a private graveside service, under the direction of Robertson-Drago Funeral Home. A memorial service may be planned for a later date as circumstances allow. Though we cannot gather together now, we would love to know your memories and stories. Memorial contributions may be made to Bridges, A West Plains School District Project, or charity of choice and may be left at Robertson-Drago Funeral Home.