Susanna Rhoads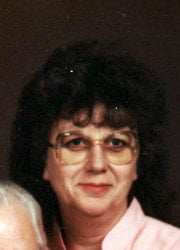 A memorial service for Susanna Rhoads, 75, Viola, Arkansas, formerly of West Plains, Missouri, will be held at 2:00 p.m., Friday, February 14, 2020 in the Rose Chapel at Robertson-Drago Funeral Home.
Mrs. Rhoads passed away at 3:53 a.m., Tuesday, February 11, 2020 at her home.
In 1966, Mrs. Rhoads married Jerry A. Rhoads in Miami Oklahoma, and to this union two children were born, James Douglas and Sarah Lisa.  Susanna was a graduate of Whittier High School in Whittier, California, and after returning to Missouri was a career bookkeeper and co-owner of Jerry's Auto Sales for ten years. Over the years she also worked for Bill and Ben Hicks at Hicks Bros. Chevrolet in Kansas City, managed the office for Ben Hicks (Dennis Anderson) Pontiac, Cadillac & GMC in West Plains, and was also an associate for a number of years at Wal-Mart in West Plains. Her final office position in West Plains was with Hoover Farms before retiring. She was an active member in the American Veterans (AMVETS) Post 98 Auxiliary and had attended Center Grove Baptist Church.
She is survived by her son, James "Doug" Rhoads and wife Gabriele of Centerville, Ohio; daughter, Sarah Lisa Fountain of Salem, Arkansas; one step-daughter, Frankie Harris of West Plains, Missouri; nine grandchildren; eleven great-grandchildren; and several nieces, nephews, and cousins.
Her beloved parents, husband, one step-son, Jerry Don Rhoads, one great-grandson, John Carter Morris, three brothers, Ezra Ellsworth, William "Bill" Ellsworth and John Ellsworth, a younger sister, one grandson Jason Sherman and her sons-in-law, David Wayne Fountain, William "Bill" Sherman and Dwayne Harris, preceded her in death.
Burial will be at a later date in the Mt. Zion Cemetery near South Fork, Missouri.  In lieu of flowers, memorial contributions may be made to Muscular Dystrophy Association or American Cancer Society and may be left at Robertson-Drago Funeral Home.