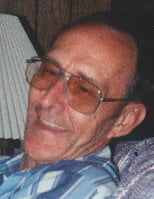 Graveside services for Edward Lee (Tom) Wrinkles, 84, West Plains, Missouri, will be held at 10:00 a.m., Thursday, February 7, 2019 at the Howell Memorial Park Cemetery under the direction of Robertson-Drago Funeral Home.
Mr. Wrinkles died 12:30 p.m., Friday, February 1, 2019 at Ozarks Medical Center.  He was born February 9, 1934 at Fox, Arkansas to Verdie Wrinkles and Nancy Lorance Wrinkles.  On November 15, 1960, he was married at West Plains, Missouri to Joyce Strong.  Before his retirement, Mr. Wrinkles had been employed as a truck driver with Doss & Harper Stone Company where he used his CB handle  "Tom Dooley".
He is survived by his wife, Joyce Wrinkles; three children, Brenda Wrinkles, Jeff Wrinkles and Rhonda Howell; seven grandchildren, Brian, Paul, Carrie, Matthew, Isabell, Stephanie and Margaret; one sister, Betty Teague; and many nieces and nephews.
His parents, three brothers, Roy, Melvin and Bobby and one sister, Ruby, preceded him in death.
Memorial contributions may be made to the Family and left at Robertson-Drago Funeral Home.