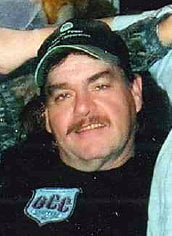 A celebration of life service for Travis Wayne Yocham, 59, West Plains, Missouri, will be held from 2:00 until 5:00 p.m., Saturday, October 27, 2018, at the Elks Lodge, West Plains.  The family invites all family and friends to join in sharing their favorite memories of Travis.
Mr. Yocham passed away at 7:39 p.m., Monday, August 6, 2018 at Cox Medical Center South, Springfield, Missouri.
He was born October 30, 1958, in Howell County, Missouri, to the late Vick Collins and Wilma Lee Yocham Collins.  On July 4, 1985, he was married to Jennifer Ledbetter.  Travis enjoyed racing, 4-wheeling and fishing; he loved building things and spending time with his family and friends, especially his grandchildren.
He is survived by Jennifer Yocham; seven children, Crystal Mays and husband, Ricky, West Plains, Missouri, Deidra Yocham and fiancee' James Rubio, Harrison, Arkansas, James Simandl and wife, Andrea, Willow Springs, Missouri, Vance Farmer and wife, Keturah, Willow Springs,  Missouri, William Collins and wife, Sarah, Peace Valley, Missouri, Heather Stewart, West Plains and Casey Ledbetter, West Plains; twenty-one grandchildren, Dominique, Christian, Arionna, Tylor, Dustin, Brayden, Logan, Mya, Annabella, Kaitlyn, Haley, Brody, Noah, Michael, Tyler, Aiden, Issac, Bryston, Caiden, Mason and Phoenix; two great-grandchildren, Jacob and Jayden; and many nieces and nephews.
His parents, one son, Brandon Ledbetter, one brother, Vick Ray Todd and wife, Donna, his grandparents, six aunts and several cousins, preceded him in death.
Memorial contributions may be made to American Heart Association and may be left at Robertson-Drago Funeral Home.