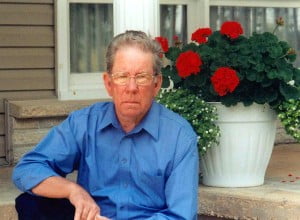 Funeral services for Troy Kelley, 78, Dora, Missouri, will be held at 2:00 p.m., Sunday, February 21, 2016 at Family Life Church, Dora, Missouri, under the direction of Robertson-Drago Funeral Home.
Mr. Kelley passed away at 12:15 p.m., Wednesday, February 17, 2016 at his home, after a long battle of illness.
He was born August 9, 1937, at Isabella, Missouri, the youngest of Bea and Minnie Johnson Kelley, who together had four children.  On September 10, 1956, he was married at Wichita, Kansas, to Nancy Smith.  He worked at Cessna Aircraft Co. in Wichita, Kansas for several years until he was ready to move back home to his roots in Dora, Missouri.  Mr. Kelley continued working and held two jobs for several years; at International Shoe Company in West Plains and doing what he loved most, farming and milking cows, which he continued until his retirement due to illness.  He was a board member of the Mid-America Dairymen.  Mr. Kelley was a member of Family Life Church.
He is survived by his wife of fifty-nine years, Nancy Kelley, of the family home; one daughter, Marsha Maggi, and husband, Stan, Springfield, Missouri; two grandchildren, Chelsea and Tyler, both of Springfield, Missouri; one brother, Sam Kelley and wife, Virginia, Dora, Missouri; one sister, Jerlene Newton, Dora, Missouri; one special niece, Juanita Smith and husband, Mike, Gainesville, Missouri; and a host of nieces and nephews.
His parents and one sister, Irene Stafford, precede him in death.
Visitation will be from 6:00 until 8:00 p.m., Saturday, at Robertson-Drago Funeral Home. Burial will be in the Smith Chapel Cemetery.  Memorial contributions may be made to the Parkinson Foundation and may be left at Robertson-Drago Funeral Home.