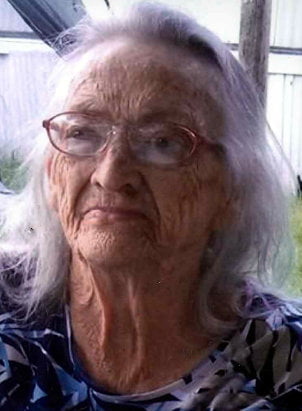 Graveside services for Uni "Rachel" Pruiett, 89, West Plains, Missouri, will be held at 2:00 p.m., Sunday, February 22, 2015 at the Howell Memorial Park Cemetery under the direction of Robertson-Drago Funeral Home.
Mrs. Pruiett died Sunday, February 15, 2015 at her home. She was born April 19, 1925 in the State of Tennessee to Abe Harbin and Rosa McMullen Harbin.  On October 20, 1942, she was married at Caruthersville, Missouri to Charlie C. Pruiett who preceded her in death on September 9, 2001.  Mrs. Pruiett was a member of the Church of Christ.
She is survived by eight children, Charlene Church, husband,Ed, North End, Colorado, Doug Pruiett, Carthage, Missouri, Judith Hill, Cabool, Missouri, Joe Pruiett, wife, Michelle, St. Clair, Missouri, Mary Hicks, husband, Duaine, Pomona, Missouri, Bill Pruiett, Marty Pruiett and Sandy Moss, all of West Plains, Missouri; thirty-one grandchildren; sixty-five great-grandchildren; fourteen great-great-grandchildren; two daughters-in-law, Debbie Pruiett, West Plains, Missouri and Julia Pruiett, Granby, Missouri; many nieces and nephews; and several other relatives.
Her parents, husband, three sons, Rickie Pruiett, Freddie Pruiett and her infant son, Ernest Pruiett, three brothers and three sisters, precede her in death.
Memorial contributions may be made to Riverways Hospice and left at Robertson-Drago Funeral Home.