Ursula Wiehe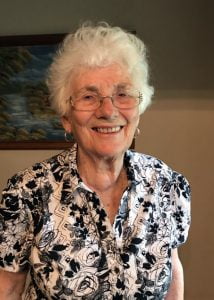 Funeral services for Ursula Wiehe, 86, West Plains, Missouri, will be held at 2:00 p.m., Saturday, January 25, 2020 at the Langston Street Chapel of Robertson-Drago Funeral Home.
Mrs. Wiehe passed away at 11:15 p.m., Monday, January 20, 2020 at her home.
She was born February 13, 1933 to Paul and Anna (Lang) Tholl in Zweibrucken, Germany.  Having survived Nazi Germany as a child, Ursula eventually worked at a U.S. Military PX near her home where she met Robert Wiehe, a soldier serving in post WWII occupied Germany.  The two were married on November 8, 1952 in Solothurn, Switzerland.
After the birth of their first daughter, Marilyn, they were transferred back to the United States to live in Edwardsville, Illinois.  In 1955, Ursula had a son, Kenneth, and in 1971, she had another son, Kurt.  Her family business in Germany was of floral arrangements, landscaping and interior decorating.  She continued these pursuits in America to the benefit of family and friends.  She loved to cook authentic, German food and desserts to bless anyone she could with a meal. Ursula was also a devout Christian having a very special love for her church family, Messianic Jewish ministries and also ministry to orphans in Africa. Ursula devoted her life to the Lord, her husband, and family and friends until her passing.
She is survived by three children, Marilyn Mitchell, San Antonio Texas, Dr. Kenneth Wiehe and wife, Gail, Paris, Illinois, and Kurt Wiehe and wife, Melissa, West Plains, Missouri; eight grandchildren, Daniel Wiehe and wife, Rebecca, Katelyn Wiehe, Matthew Mitchell, Micaela Wiehe, Maddy Wiehe, Nathan Wiehe, Natalie Wiehe, and Melia Wiehe; and one great-grandchild, Braddock Wiehe.
Her parents, husband, Dr. Robert Wiehe, one brother, Karl-Heinz Tholl and one grandchild, Natalie Mitchell, preceded her in death.
Visitation will be held from 6:00 until 8:00 p.m., Friday, at the Langston Street Chapel of Robertson-Drago Funeral Home.  Burial will be in the Howell Memorial Park Cemetery.  Memorial contributions may be made to Bethlehem Christian Academy and may be left at Robertson-Drago Funeral Home.