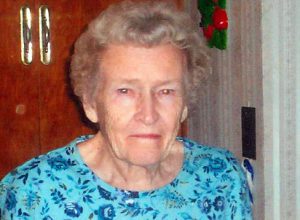 Funeral services for Vernie Pearline Warren Evans, 95, West Plains, Missouri, will be held at 2:00 p.m., Wednesday, November 8, 2017 in the Rose Chapel at Robertson-Drago Funeral Home.
Mrs. Evans passed away at 2:28 p.m., Sunday, November 5, 2017 at West Vue Nursing Center.
She was born October 20, 1922, at Dawt, Missouri, to Oda and Nellie Warren.  She was the second born of five children; Earnie, Zella, Verl and Verdon.  She grew up in Dawt and received her education at Bratcher School.  At the age of 18, she was united in marriage to Loyd Abraham Evans on July 13, 1940.  Loyd and Vernie's marriage brought forth the joy of four children and their families; (Freddie) and his children, Eddie, wife Loretta, their son Canyon; Doug, wife Teresa, their daughter Megan; (Frank) his daughter Karla, husband David Humphrey, their sons, Caleb and Noah; Frank's wife Carol, and her children; John and Alison Lovelace, and a family friend Seth Mock; (Jack) and his children, son Darren, daughter Monica, husband Ryan Crabtree, and son Boston; (Shirley) husband Ralph Finley; their daughter Angie, husband Steven Crewse and their daughters, Kaylea and Harley.  Loyd and Vernie were married 46 years until Loyd passed away on August 29, 1986.
They bought a farm near Bakersfield, Missouri and raised goats, hogs and milked cows.  Vernie was primarily a homemaker and she did other work as well; wrote a column for the Ozark County Times Newspaper, worked for C. W. Vaughn at the Mercantile in Bakersfield and worked on the election for several years.  Vernie was a long time member of the Hawkins Ridge General Baptist Church near their home before moving to West Plains, where she attended China Union Church for several years, until she became a resident at West Vue Nursing Center.  She believed in Jesus Christ As her Lord and Savior.  She always wanted to go to Church and enjoyed preparing meals for their Pastor or visiting Minister.  Her desire and prayer, was that all her Family be together in Heaven.
Vernie spent countless hours with hands of love making quilts for others over the years.  At age 85, she made all of her great-grandchildren quilts.  Her passion for sewing and gardening, allowed her to participate in the annual county fair and she received many blue and red ribbons for enjoying her gifted abilities.  Over the years, Vernie has spent many hours working in her flower and vegetable gardens.  For many of those years, her vegetable gardens were a necessity for feeding her family.  There was one time she had her arm in a cast, but still cut corn off the cob to freeze for winter food.  At age 88, she was still putting out a garden and worked in her flowers.  She has always been very active, her nature to be doing something all of the time.  She started volunteering at Emerald City Thrift Store when she was 80, did so for three years.  She was a special daughter, caring sister, devoted wife, loving mother and a proud grandmother.  She loved her children, grandchildren and great-grandchildren and their spouses all the same.  She was a kind, caring, strong Lady, and will be greatly missed.
Her parents, husband, two sons, Freddie and Frank Evans, an infant sister, Earnie, sister Zella and her husband Elmer Killion, a sister-in-law, Luberyla Warren, preceded her in death.   She is survived by two brothers, Verl Warren and Verdon Warren and wife, Mildred and many nieces and nephews.  Vernie was the last living of all of her brothers-in-law and sisters-in-law from the family of John and Julie Evans.
Visitation will be held from 6:00 until 8:00 p.m., Tuesday, at Robertson-Drago Funeral Home.   She will be laid to rest at Clear Springs Cemetery among her family.