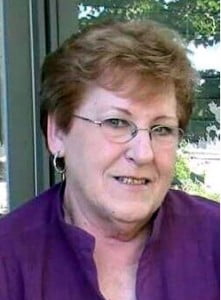 A celebration of life for Vola "Kay" Jones Pyle, 69, West Plains, Missouri, will be held at 2:00 p.m., Monday, January 4, 2016, in the Rose Chapel at Robertson-Drago Funeral Home.
Mrs. Pyle gained her wings at 11:58 p.m., Tuesday, December 29, 2015, when she entered into eternal rest at Cox Hospital in Springfield, Missouri.
Kay was born to the late Donald Adam Bressman and Evelyn Elba Calloway Bressman on September 21, 1946 in Lawton, Oklahoma. She attended school in Elgin, Oklahoma and spent countless hours working in her families' grocery store. She met and married the love of her life, Eulist Gerald Jones on August 26, 1963. To this union, three of the greatest joys of her life were born; Angie, Tammy and Adam. She spent countless hours teaching her children to garden and spun those homegrown goodies into some of the finest cooking in all of Oklahoma. The family moved to West Plains in 1984; shortly thereafter, she began working at Marathon Electric and spent many years there as a hardworking and valued employee. On January 13, 2000, her beloved husband preceded her in death after nearly thirty-nine years of marriage. She later met and married Richard Erwin Pyle on September 1, 2001, a wonderful man who brought love and laughter back into her life.
She is survived by her husband Richard Pyle; her siblings, Joe and Lou Bressman, Dorothy Burchum, and Donna and J.D. Gamble; her children Angie McDonald and partner Ronnie Collins, Tammy and Eddie Williams, Adam and Krystal Jones, Richard and Kathy Pyle, Duke Pyle and Jennifer Pyle; her grandchildren, Heather and Keith Myers, Danielle and Marty Kester, Marissa and Brian Mace, Tori and Shane Stigall, Stephanie and Chris Guinn, Jessica and Michael Williams, Tyler and Jaclyn Williams, Robert and Michaela Colvin, William Colvin, Miranda Lowry, Cole Jones, Hannah Jones Mertz, Kryslyn Colvin, Gabriel Colvin, and Noah Colvin; her great-grandchildren, Braiden Myers, Landon Olivas, Lydia Olivas, Logan Kester, Lakyn Kester, Mylie Mace, Jewelia Mace, Elijah Mace, Izabell Stigall, Devon Stigall, Rili Stigall, Carson Stidham, Kynlee Stigall, Tryston Stigall, Anastasia Colvin, Carson Mertz, Mackenzie Williams, Kyndra Williams, Trinity Williams, Haylee Williams, Christian Williams, Kielee Williams and yet-to-arrive Baby Myers.
Her parents, brother Dee Bressman, sister Judy Becerra and her beloved husband Gerald precede her in death.
She will be fondly remembered as a hard working woman; whatever she did, whatever she tried, it was always with determination and she gave 110%. She had a quick wit and an infectious laugh that was a joy to anyone that heard it. Most of all, she was a teacher… she taught her children and grandchildren the joys and rewards of planting, harvesting and canning. She taught them to take those same goods and prepare a meal for their families. She was an avid quilter and passed on her skills to family, as well as friends. Her greatest teaching was that of family and unconditional love; a legacy that will be remembered by those that were lucky enough to know her. In death, as in life, she will remain our guardian angel and continue to watch over us until we meet again.
Mrs. Pyle will lie in state from 5:00 until 9:00 p.m., Sunday, at Robertson-Drago Funeral Home. Burial will be in the Homeland Cemetery.  Memorial contributions may be made to American Heart Association and may be left at Robertson-Drago Funeral Home.