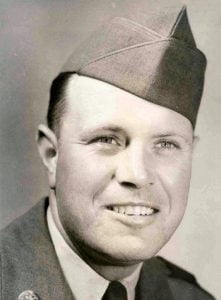 Graveside services for Wallace D. Cardwell, 95, West Plains, Missouri, will be held at 10:00 a.m., Saturday, September 17, 2016 at Howell Memorial Park Cemetery, under the direction of Robertson-Drago Funeral Home.
Mr. Cardwell passed away at 9:40 p.m., Saturday, September 10, 2016 at West Vue Nursing Center.
He was born February 13, 1921, at Englewood, Colorado, to Floyd Cardwell and Ida Higdon Cardwell.  In 1942, he married Gloria Hughey, the mother of his three children.  He married Nelda Williamson in 1973.  Mr. Cardwell was a veteran.  He worked as a supervisor at Lockheed Aircraft Company, teaching women to work on aircraft until 1944; he then enlisted in the United States Navy.  After the war ended he was in the Navy Reserve for four years.  After holding several civilian jobs, he enlisted in the United States Army in 1949 and served twenty years, retiring as a CW04 at Ft. Bliss, Texas.  Wallace went to work as mailroom supervisor at the University of Texas in El Paso.
He is survived by his wife, Nelda Cardwell; three children, Col. Barry Cardwell, Ret., and wife, Tammy, Janis Johnson and husband, George and Sharon Walker; seven grandchildren; twelve great-grandchildren; two step-children, Cynthia Fleming and husband, Bill and Steve Henry and wife, Cindra; nine step-grandchildren; one brother, Thurman Cardwell and wife, Ardy; and several nieces and nephews.
His parents, four brothers and one step-daughter, precede him in death.
Mr. Cardwell will lie in state from 5:00 until 9:00 p.m., Friday, at Robertson-Drago Funeral Home.   The family will receive their friends after the service, at 2201 Bradford Circle, Pleasant Valley Retirement Village.   Memorial contributions may be made to the Veterans Honor Guard of West Plains and may be left at Robertson-Drago Funeral Home.