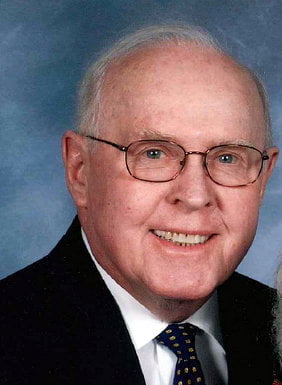 A celebration of life for Warren Glen Fletcher, 87, West Plains, Missouri, will be held at 1:00 p.m., Friday, December 12, 2014, at First Baptist Church of West Plains.
Warren Glen Fletcher, loving husband, father and friend was welcomed into the kingdom of heaven on Friday, December 5, 2014.
He was born November 20, 1927, at Wheatland, Indiana, to Irvel Irvin Fletcher and Bertha Wise Fletcher.  Warren joined the United States Navy on June 27, 1945. He worked for the Baltimore and Ohio Railroad after his military service. On May 9, 1953, he was married at Rosemont, Illinois, to Ruth Irene Palis, who preceded him in death on July 5, 2010. They moved to West Plains in 1959 where Warren worked as a Sales Representative for Western Auto and later moved to St. Louis as a new store sales manager. His love for friends, church and the community drew him back to West Plains in 1968 as the administrator of West Vue Nursing Home, Inc. Warren worked diligently to improve long term healthcare as a member of local, state and national advisory boards. He served the City of West Plains by membership on many boards and committees and was a member of the Rotary Club. He loved the outdoors and spent many hours fishing, hunting and playing golf with friends and family. Warren was an active deacon at the First Baptist Church of West Plains. He faithfully served God through various avenues of ministry both local and worldwide. His greatest joy was knowing God and leading others into His presence.
"Seek the Kingdom of God above all else, and live righteously, and he will give you everything you need." Matthew 6:33 (NLT)
He is survived by two daughters, Diana Kay Dirk and husband, Reverend John A. Dirk, Woodway, Texas and Ruth Anne Castleberry and husband, Reverend Richard A. Castleberry, Chesapeake, Virginia; and four grandchildren, Major John David Dirk, United States Marine Corps and wife, Elizabeth, Lexington Park, Maryland, Elizabeth Fitzgerald, and husband, Major Chad Fitzgerald, United States Army, West Point, New York, Anna Rebekah Castleberry, Tyler, Texas and Jonathan Andrew Castleberry and wife, Emily, Selma, Alabama; four great-grandchildren, Caleb and Grace Fitzgerald and John Michael and Margaret Dirk; two sisters, June Gammon and Margaret Cornelison, husband, Allen, Wheatland, Indiana; one brother, Jerry Fletcher, State of Alaska; one sister-in-law, Dottie Fletcher, State of Alaska; and many nieces and nephews.
He was preceded in death by his wife, three sisters and three brothers.
In lieu of flowers, the family requests memorial contributions may be made to Samaritan's Purse Operation Christmas Child Fund or First Baptist Church Benevolent Fund, and may be left at Robertson-Drago Funeral Home.