Waydene Bishop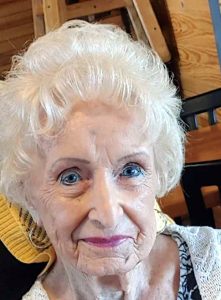 Waydene Bishop, 93, West Plains, Missouri, passed away at 9:23 p.m., Thursday, January 6, 2022, at West Vue Nursing Center. 
She was born July 29, 1928 at Agnos, Arkansas, to L. D. and Cliffee Ellis Duke.  In November 1948, she was married at Salem, Arkansas to Ray Bishop, who preceded her in death October 23, 2005.  Ray and Waydene were married for fifty-eight years.  They made their home in Salem, Arkansas before moving to Pontiac, Michigan.  Waydene was employed as a cashier and an office manager for twenty-eight years with the Kroger Company.  Ray was employed by General Motors for thirty years.  After their retirement, they moved to Palm Harbor, Florida, where they lived for two years.  They always longed to move back home.  In 1986, they moved to West Plains.  After returning home, Waydene enjoyed socializing with friends, and numerous activities at the Senior Center. She was an avid Bingo player and loved reading.  Waydene was a loving wife to Ray, and a loving, caring mother to two daughters, three grandchildren, and five great-grandchildren.
She is survived by two daughters, Dona Coatney and husband, Jim, West Plains, Missouri, and LaJune Castro, Dunedin, Florida; three grandchildren, Gina Hannah, Clearwater, Florida, Brent Gruno and wife, Tiffany, Saint Louis, Missouri, and Brandon Coatney and partner, Kati, Nixa, Missouri; five great-grandchildren, Andre Hannah, San Diego, California, Rogan Coatney, Willow Springs, Missouri, Kynlee Hodge, Nixa, Missouri, Adalynn Coatney, Nixa, Missouri, and Grayson Coatney, Nixa, Missouri; and one sister, Cora Vallee, Rochester Hills, Michigan.
Her parents, husband, Ray Bishop, three brothers, and one sister, preceded her in death.