William "Bill" Daniel Andrews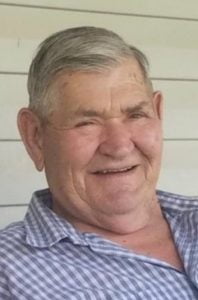 William "Bill" Daniel Andrews passed from this life and went to be with his Lord on January 1, 2023.
He was born January 20, 1940, at Thomasville, Missouri, to Edward and Louise Fisher Andrews.  He grew up in that area on the family farm with his two brothers and spent lots of time with grandparents, aunts, uncles, and cousins.  He loved to tell stories about their escapades.  On May 31, 1963, Bill married the love of his life, Vera Brown Andrews, and from this union were born Carmen, Danny, and Kindra (who passed away at birth).  Their family grew to include a son-in-law, daughter-in-law, grandchildren, and a great-grandson.  They were his pride and joy and he loved them dearly.  In 1973, they moved to Willow Springs when they bought their own farm.  He took tremendous pride in his farm and loved caring for his cows.  Bill worked for Pepsi-Cola and retired after thirty-plus years.  He made many friends over those years.  Bill was saved a young adult and loved and served the Lord for the rest of his life.  He and Vera attended church at Dry Creek Baptist Church and, more recently, at First Free Will Baptist Church of West Plains.  He loved his church family greatly.  Bill was fun-loving and very ornery.  He loved to laugh and tell stories.  He also had a big heart and was thoughtful and generous.  He will be forever missed. 
He is survived by his wife of fifty-nine years, Vera Brown Andrews; his daughter, Carmen Schildknecht and husband, Kyle; his son, Danny Andrews and wife, Lisa; his grandchildren, Jamey Andrews and wife, Jessica, Sydney Schildknecht, Cory Andrews, and Lydia Schildknecht; his great-grandson, Eli Andrews; his brothers, James Andrews and wife, Sue, and Gordan Andrews and wife, Geneva; brother-in-law and sister-in-law, Tommy and Norma Reed, and sister-in-law, Freda Grisham; and many nephews and nieces.
He is preceded in death by his daughter, Kindra Andrews, parents, Ed and Louise Andrews, father-in-law and mother-in-law, Floyd and Blanche Brown, sister, Dorothy Andrews, sister-in-law, Louise Andrews, and brother-in-law, Donnie Grisham.
Visitation will be from 6:00 p.m. to 8:00 p.m., Friday, January 6, 2023, at Robertson-Drago Funeral Home.  Funeral services will be held at 2:00 p.m., Saturday, January 7, 2023, at First Free Will Baptist Church, under the direction of Robertson-Drago Funeral Home.  Burial will be at Dry Creek Cemetery.  Memorial contributions may be made to his favorite charity, St. Jude Children's Research Hospital, and may be left at or mailed to Robertson-Drago Funeral Home, 211 West Main, West Plains, MO  65775.