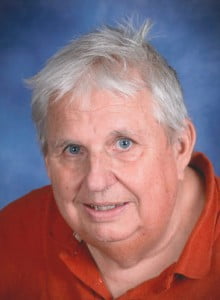 Funeral services for William Ernest Peterson, 72, West Plains, Missouri, will be held at 2:00 p.m., Sunday, January 3, 2016, at Immanuel Lutheran Church, under the direction of Robertson-Drago Funeral Home.
William, known as "Uncle Willy" to his family, passed away in his home on December 29, 2015.
Born in New York City in 1943 to Scandinavian immigrants Etta and Ernest Peterson, William spent most of his early life in Los Angeles, California. There, he attended college, graduating with degrees in history and mathematics, with an emphasis in electronics. He went on to work for Aerospace and Defense companies such as JPL, Rockwell, and NASA. After a motor vehicle injury, he moved to Missouri and worked as an Engineering instructor for Missouri State University West Plains. His great passion in life was accumulating antiques, "collectables", and odd pieces of trivia, which he delighted in sharing with family and friends. He enjoyed singing, was a member of his church choir, and frequently regaled people with classics such as "Zip-A-Dee-Doo-Dah" (from Disney's Song of the South). He had been a HAM radio operator since the 1950's, and held a number of patents in electronics.  Mr. Peterson was a parishioner at Immanuel Lutheran Church.
He is survived by one sister, Dr. Anita Bailey and her husband, Rick, Noel, Missouri; two nieces, Mrs. Rebecca Pruett, West Plains, Missouri and Mrs. Jamie Hall, Springfield, Missouri; five nephews, Mr. Ben Ramsey, Aurora, Missouri, Mr. Ethan Ramsey, Springfield, Mr. Aaron Ramsey, West Plains, Mr. Justin Evangelista, Springfield and Mr. Jacob Ramsey, Blytheville, Arkansas; their spouses; fourteen grand-nieces and grand-nephews; and four great-grand-nieces and great-grand-nephews.
His parents and one sister, Mrs. Carla Ramsey, precede him in death.
Mr. Peterson will lie in state from 5:00 until 9:00 p.m., Saturday, January 2, 2016, at Robertson-Drago Funeral Home.  Visitation will be from 1:00 until 2:00 p.m., Sunday at Immanuel Lutheran Church. Burial will be in the Howell Valley Cemetery.  Memorial contributions may be made to Immanuel Lutheran Church and may be left at Robertson-Drago Funeral Home.