William J. Prokopovich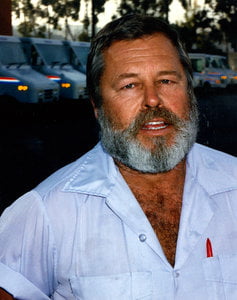 William J. Prokopovich, 83, Pottersville, Missouri, passed away at 5:41 a.m., Thursday, May 6, 2021, at his home.
He was born April 26, 1938, at Peabody, Massachusetts, to John and Jenny Kushkowski Prokopovich.  On December 14, 1963, he was married at Hawthorne, California, to Cary Cannon.  Mr. Prokopovich was a veteran, having served with the United States Navy.  Before his retirement, he was a mail carrier for the United States Postal Service.  William loved Jesus, his family and his dogs.  He was a proud Grandfather of many grandchildren and great-grandchildren; he went from Big Bad Bill to Sweet William.  Mr. Prokopovich attended Pottersville First Baptist Church.
He is survived by his wife, Cary Prokopovich, of the family home; three children, Leo Prokopovich and wife, Lynn, Atkinson, New Hampshire, Nadia Watson and husband, David, Pottersville, Missouri and Viktoria Griffin and husband, Brian, Boxborough, Massachusetts; fifteen grandchildren; eleven great-grandchildren; one brother, Victor Prokopovich, Stow, Massachusetts; and one sister, Lydia Coombs, State of New  Hampshire. 
His parents, and one son, Ivan Micah Prokopovich, preceded him in death. 
Arrangements under the direction of Robertson-Drago Funeral Home.