William Jewell Kimbrough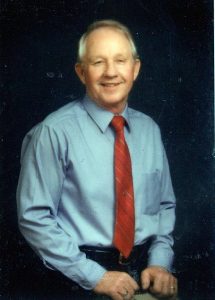 Graveside services for William Jewell Kimbrough, 89, West Plains, Missouri, will be held at 10:00 a.m., Saturday, June 13, 2020 at Howell Memorial Park Cemetery, under the direction of Robertson-Drago Funeral Home.
Mr. Kimbrough passed away at 1:11 a.m., Thursday, June 11, 2020, at Brooke Haven Healthcare.
He was born August 10, 1930, at Fanchon, Missouri, to Isaac B. Kimbrough and Della Shipman Kimbrough.  On August 9, 1953, he was married at West Plains, Missouri, to Shirley Porter; to their union three wonderful children were born, Lanny, Cynthia and Chuck.  On May 11, 1985, he was married at Lebanon, Missouri, to Peggy (Gannon) Odom; this union blessed him with two step-daughters.  Bill attended school at Riggs & Hughlett in Fanchon.  Mr. Kimbrough was a veteran, having served with the United States Air Force. During the Korean War he was a supply specialist stationed at Tacoma, Washington.  He was a lifetime carpenter, cabinet maker and custom home builder; Bill had built fifty-five custom homes.  He enjoyed working to the fullest.  Mr. Kimbrough was the carpentry instructor for West Plains High School from 1985 to 1995.  After retiring, he went back to woodworking and building, until his health failed.  His entire blended family brought him great joy, especially his grandchildren and great-grandchildren.  Mr. Kimbrough was a Christian and loved working for the Lord; he read his Bible daily for as long as he could and lastly attended Olde Tyme Full Gospel Church.
He is survived by his wife, Peggy Kimbrough; two children, Lanny Kimbrough and wife, Deana and Chuck Kimbrough and wife, Erin and their mother, Shirley  Kimbrough; two step-daughters, Tracy Morris and husband, George Bressie and Jeannie Cox and husband, David; seven grandchildren, Andrea Edwards Dewey and husband, Matthew, Katie Kimbrough Johnson, Andrew Kimbrough, Abbey Kimbrough, Kyle Kimbrough, Zach Cox and wife, Rachel and Courtney Cox Hamilton and husband, Matthew; seven great-grandchildren, Cora, Emma, Ava and Finn Dewey and Blake, Karlee and Nate Johnson; one sister, Alma Bowman; one brother, Benny Kimbrough and wife, Phyllis; his mother-in-law, Lorine Gannon; one brother-in-law, Charles Gannon and wife, Jayne; one sister-in-law, Vicki Jones and husband, Max; and several nieces and nephews.
His parents, one daughter, Cynthia (Kimbrough) Edwards, three grandchildren, Erin Edwards, Michael Kimbrough and Zebulon Cox, three brothers, Brad Jr., Feltman and Franklin Dean Kimbrough, two sisters, Thelma Isaacs and Wilda Underwood and his father-in-law, Gene Gannon, preceded him in death.
Mr. Kimbrough will lie in state from 5:00 until 9:00 p.m., Friday, at Robertson-Drago Funeral Home.   Memorial contributions may be made to St. Jude's Children's Research Hospital or Gideon Bible Society and may be left at or mailed to Robertson-Drago Funeral Home, 211 West Main, West Plains, MO  65775.