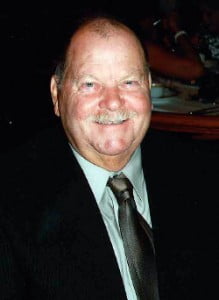 A memorial service will be held at a later date for William Lee VenDouris, 76, West Plains, Missouri.
Mr. VenDouris died at 3:40 a.m., Tuesday, May 12, 2015, at Barnes-Jewish Hospital, St. Louis, Missouri.
He was born December 25, 1938, at South Gate, California, to William F. and Miriam VenDouris.  He was married to Sue McLoughlin.  Bill enjoyed woodworking, fishing and camping.
He is survived by his wife, Sue VenDouris, of the family home; one daughter, Nancy Allen and her children, Austin and Amber; one step-son, Eric Runyon, wife, Stephanie and their children, Samantha and Chelsea; all of San Diego, California; one sister, Gladys Anderson, West Plains, Missouri; sister-in-law, Carol McLoughlin; sister-in-law and brother-in-law, Jill and Frank Mydler; brother-in-law and sister-in-law, Neil and Joan McLoughlin; and many nieces and nephews.
His parents and one son, William VenDouris, precede him in death.
Arrangements under the direction of Robertson-Drago Funeral Home.