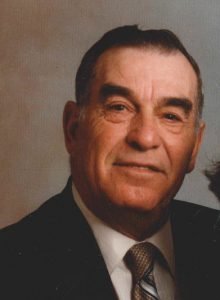 Graveside services for Alvin Ardine Wilson, 88, West Plains, Missouri, will be held at 2:00 p.m., Saturday, June 23, 2018 at Oak Lawn Cemetery, under the direction of Robertson-Drago Funeral Home.
Mr. Wilson passed away at 6:24 a.m., Monday, June 18, 2018 at his home.
He was born August 23, 1929, at Walnut Ridge, Arkansas, to Bernard "CB" Wilson and Nina Viola Chronister Wilson. Mr. Wilson was a veteran, having served with the United States Army in Korea from 1951 to 1953. He married Joyce Floyd in 1953 and to that union two children, Kathy Wilson Hovis and Steven Wilson were born. Alvin lived in St. Louis for fifty years and worked in cement masonry. On March 7, 1989, he was married at Ash Flat, Arkansas, to Anny Stohr Coursey and three step-sons joined his family, Jesse, Bobby and Gary Coursey. Alvin enjoyed gardening, fishing, golf, crossword puzzles and was a fan of St. Louis Cardinals baseball. He loved eating Oma's cakes and cookies.
He is survived by his wife, Anny Coursey Wilson, of the family home; two children, Kathy Hovis and husband, Floyd, Leesburg, Virginia and Steve Wilson and wife, Sonya, St. Louis, Missouri; one step-son, Bobby Coursey and wife, Bonnie, Koshkonong, Missouri; eight grandchildren, Melissa Stroka and husband, Josh, Lauren Hovis and fiancé, Chase, Angela Wilson, Rebecca Coursey Miller and husband, Brian, Joe Wilson, Bobby Lee Coursey and wife, Carrie, Jeffery Coursey and wife, Kayla and Justin Coursey and wife, Jennifer; eight great-grandchildren, Bailey O'Callaghan, Gracie Coursey, Joanee Coursey, Harmony Coursey, Dagen Coursey, Lathen Coursey, Miles Tucker and Zachary Miller; and one brother, Jerry Wilson and wife, Barbara, State of Florida.
His parents, five sisters, Geraldine Smith, Helen Honeycutt, Rovena Thornton, Ruth Jaraschke and Aletta Warner, one brother, Carl Wilson and two step-sons, Jesse Coursey and Gary Coursey, preceded him in death.