Angielee Catherine Huddleston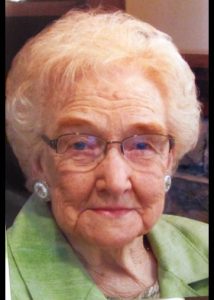 Graveside services for Angielee Catherine Huddleston, 98, Ironton, Missouri, will be held at 3:00 p.m., Saturday, November 14, 2020 at Howell Memorial Park Cemetery, under the direction of Robertson-Drago Funeral Home.
Mrs. Huddleston passed away at 6:00 p.m., Monday, November 9, 2020, at Baptist Home, Ironton, Missouri.
She was born April 16, 1922, at West Plains, Missouri, to Mont Clifton Palmer and Rose Hawkins Palmer.  Raised along with sister, Faye Palmer, Angie spent the first 18 years of her life in West Plains; graduating as a proud Zizzer in 1940. During World War II, Angie lived for a time in Springfield, Missouri working for her uncle, Oda Hawkins, at his grocery store. Moving back to West Plains, Angie took a job at the West Plains Bank and settled into a life that would touch many others. She was a member of the First Baptist Church in West Plains upon her profession of faith, and continued active throughout her time residing in town.  Angie married Dr. James Allen Huddleston, Sr. on Thanksgiving Day in the Fellowship Hall at First Baptist Church, in 1961. In 1966, her growing family moved to Bridgeton, Missouri (suburban St. Louis County). There she raised her two sons; Allen and Stuart. Her family moved their letter of membership to the Fee Fee Baptist Church in Bridgeton where she remained a member until her death.  Angie was a fixture at the JCPenney store at Northwest Plaza, where she worked for more than three decades. She moved to the Baptist Home in Ironton, Missouri in 2017, and remained there until her passing.
She is survived by son, James Allen Huddleston Jr., daughter-in-law Donna and three grand-daughters: Kalee, Anitra, and Natasha, two great-grand-daughters: Kaitlyn and Emily, and three grand-sons: Brayden, Jerry, and Remi.  Also surviving, son, Stuart Lynn Huddleston, daughter-in-law Christy and two grand-sons: Ethan and Evan.
All who knew Angie could attest that she was kind, gentle, and caring. These were fruits of the Holy Spirit within her. The meaning in her life came by grace through faith in Christ. She will endure in our hearts and minds because Christ endures.
For the wages of sin is death; but the gift of God is eternal life through Jesus Christ our Lord. Romans 6:23
Memorial contributions may be made to Feefee Baptist Church Building Fund and may be left at or mailed to Robertson-Drago Funeral Home, 211 West Main, West Plains, MO  65775.