Glendora Johnson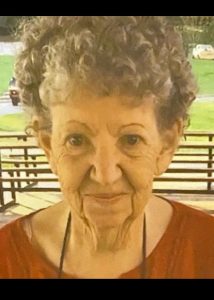 Graveside services for Glendora Johnson, 88, West Plains, Missouri, will be held at 11:30 a.m., Saturday, November 14, 2020 at Pottersville Cemetery, under the direction of Robertson-Drago Funeral Home.  A Celebration of Life Service will be held at 1:00 p.m., Saturday at The Historic Post Office, 204 East Main Street, West Plains, Missouri.
Mrs. Johnson passed away at 10:10 p.m., Friday, November 6, 2020, at her home.
She was born November 16, 1931, at Pottersville, Missouri, to Fred Belcher and Thelma Wheat Belcher.  On March 2, 1950, she was married at Salem, Arkansas, to Raymond Jr. Johnson, who preceded her in death on February 2, 1995.  She loved spending time with her family and enjoyed the activities of all of her children and grandchildren.  She attended many ballgames in her life and was a big Cardinals fan.  Her hobbies included going to yard sales, drawing and writing poems.  Mrs. Johnson was of the Baptist faith.
She is survived by her children, Denise Philpott, Terry Johnson and wife, Teresa, Marisa Wilkening and husband, Ted, Lavina Wilkening and husband, Charley, James Johnson and Sherry Johnson; her grandchildren, Monica Kesling and Brad Hale, Tiffany Atkisson, Sheldon Wilkening, Afton McCall, Seth Johnson and wife, Mallory, Lindsay McCall, Dylan Wilkening, Shelbey Wilkening, Landon Wilkening, Brian Johnson and wife, Shelly and Brad Johnson; her great-grandchildren, Mackenzie Kesling, Dakota Kesling and wife, Kelsee, MaKaala Harris, Haddlee Atkisson, Addison Sanders, Colten Johnson, Cassidy Johnson, Camry Johnson and Briar Johnson; her great-great-grandchildren, Payton Kesling, Rayelee Gregory and Maddox Kesling; many nieces and nephews including Elaine Baker and husband, Mark and their son, Alex; and all that called her "Grandma Glendy".
Her parents, husband, two brothers, Vedron Belcher and wife, Shirley and Lee Belcher and wife, Alvina and one sister, Margie Stoll and husband, Doug, preceded her in death.
Memorial contributions may be made to Pottersville Cemetery and may be left at or mailed to Robertson-Drago Funeral Home, 211 West Main, West Plains, MO  65775.