Barbara Cherry Morrison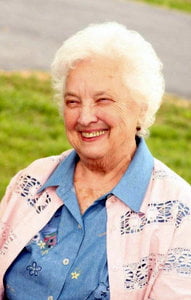 Graveside services for Barbara Cherry Morrison, 94, West Plains, Missouri, will be held at 10:00 a.m., Tuesday, August 3, 2021 at Howell Valley Cemetery, under the direction of Robertson-Drago Funeral Home. 
Mrs. Morrison passed away Thursday, July 29, 2021, at her home.
She was born May 4, 1927 at West Plains, Missouri, to Louis and Lovica Loveall. On August 21, 1946, she was married at West Plains, Missouri, to John Gideon Morrison, who preceded her in death on March 8, 1998.  Cherry and John Gid were active in the community and their church, All Saints Episcopal (as were her parents/family). They were part of the community effort to establish West Plains Memorial Hospital in the 1950s and in the centennial celebration of West Plains. They contributed to any and all efforts for the good of our community. Cherry is our last family member of the generation who lived through the Great Depression and WWII. She and John Gid started West Plains Propane in the late 1950s, now owned by Rob and Debbie Stauffer and Andy and Sonja Stauffer. Cherry and John Gid raised their family south of West Plains on the family farm on PP Hwy, where the Morrisons have farmed since the 1880s. Cherry was an avid birdwatcher and gardener. Her yard was the setting for many family weddings, events and photos for the past 75 years. Cherry learned how to fly at the age of 50 and she loved playing cards with her many friends. She believed in education and encouraged her children to seek the best education they could. She taught adult education to those seeking to improve themselves. Although she did not have the opportunity to attend college, she was a highly educated woman because she was such a voracious reader. She encouraged her children to do the same. She loved music and listening to Marty Robbins, Frankie Lane, and Harry Belafonte records. She was passionate but respectful about politics and known for her wit and sense of humor. All who met Cherry were her friends. She was a positive and kind person to all. She will be missed by all that knew her, but especially her loving family.
Cherry is survived by her children, Travis Morrison/Kathy, Susan Clemons/John, Debbie Stauffer/Rob, Gid Morrison/Cindy;  20 grandchildren: Susannah Curtis/Michael, Mary Theresa(Tracy) Morrison/ Jeff Gordon, Chris Morrison/Aimee, Annie Smith, John Morrison; Jason Clemons/Jan, David Clemons, Joey Clemons/Andressa; Andy Stauffer/Sonja, Jake Stauffer/Jamie, Megan Nickey/Kevin; Travis Gideon Morrison, Katy Morrison, Audie Lloyd/Robert, Luke Morrison, Zach Morrison, Eli Morrison, Ann Marie Morrison, Hannah Morrison, Matti Morrison; 17 great-grandchildren and sister-in-law Fern Loveall of Tucson, Arizona.
Her parents, husband, three brothers Robert, Bill, Ralph Loveall and one sister, Chris, preceded her in death.
Family visitation will immediately follow at the cemetery with lunch provided by the family. Memorial contributions may be made to Howell Valley Cemetery, All Saints Episcopal Church or a charity of your choice and may be left at or mailed to Robertson-Drago Funeral Home, 211 West Main, West Plains, MO  65775.