Bernice Marie Sawyer Hensley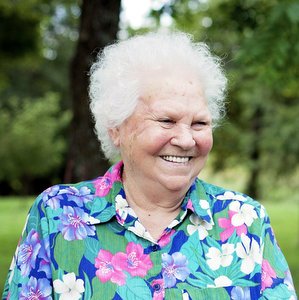 Funeral services for Bernice Marie Sawyer Hensley, 90, West Plains, Missouri, will be held at 2:00 p.m., Monday, October 24, 2022 in the Langston Street Chapel of Robertson-Drago Funeral Home.  
Mrs. Hensley passed away at 10:37 p.m., Thursday, October 20, 2022, at West Vue Green House Homes.  
She was born on June 26, 1932, in Only, Tennessee to Eli Newton and Mandy Lou Scott Sawyer. At the age of nine, her family loaded up and left the tobacco fields of Tennessee and moved to the flatlands of Risco, Missouri, where they worked in the cotton fields. It was in those cotton fields that she met a young man from Birch Tree named Dewey Duane Hensley, who would become the love of her life. They were married on March 16, a beautiful spring day in Piggot, Arkansas. Shortly after getting married, they moved to West Plains, Missouri, where they made a wonderful life together, raising their two daughters, Brenda Elaine and Lois June.   Marie worked at Luna's Laundry and Crones Blackberry Canning Factory before becoming the first woman bottle inspector at the Dr. Pepper Bottling Plant. She continued her career at the Coca-Cola Plant, where she trained other men and women in the trade. In 1974 she became a full-time farmer, raising cattle and feeder pigs. She and Duane became one of the largest feeder pig farmers in the area. They loved traveling with their grandkids to show their pigs.  Marie was a member of Berean Baptist Church since 1960. She enjoyed being a Sunday School and Bible School teacher. She introduced many kids to Jesus and wasn't afraid to smack them if they got out of line. She loved loading up a bunch of area kids and taking them to bible camp during the summer. She took her calling to the Lord very seriously and was a witness to many. There was always room at her table for one more because her door was always open to share a cup of coffee or a cold coke.   Marie loved playing a competitive game of softball with her Sawyer family. She also enjoyed playing volleyball and was a great bowler, winning many awards. She was active in 4H and the PTA when her girls were young.  She loved going to ballgames, track meets, or any events her grandkids were involved in. She was always ready for a game of cards, horseshoes, or putting a puzzle together. She loved a good water fight or playing in the snow. Mrs. Hensley was a member of Ozark Spring Chapter Daughters of the American Revolution.
She is survived by one daughter, Lois Hensley Frazier and husband, Rick; five granddaughters, Mary Ann Guilliams Kenslow and husband, Scott, Sarah Guilliams Janchyshyn and husband, Michael, Jessica Joice Frazier and fiancé, Clint Warren, Christy Frazier Englehart and husband, Paul and Alison Frazier Head and husband, Danny; one grandson, James Adam Guilliams and wife, Allison; six great-grandsons, Isaac, Caleb, Connor, James David, Dalton and Noah; four great-granddaughters, Avery, Addison,  Heidi Marie and Sydney; two sisters, Mary Lou Wilson and Bet Gwaltney; two sisters-in-law, Vivion Ketron and Nina Hensley-Antel; son-in-law, Jim Guilliams; and many special nieces and nephews.
She is preceded in death by her parents, husband, daughter Brenda Guilliams and siblings, Grace, Grady, and Harice.
Visitation will be held from 6:00 until 8:00 p.m., Sunday, in the Langston Street Chapel of Robertson-Drago Funeral Home.  Burial will be in the Bethlehem Cemetery, Birch Tree, Missouri.  Memorial contributions may be made to Cystic Fibrosis of West Plains or Berean Baptist Church and may be left at or mailed to Robertson-Drago Funeral Home, 211 West Main, West Plains, MO  65775.