Norma Lee Cooper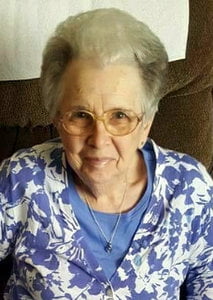 Graveside services for Norma Lee Cooper, 87, Caulfield, Missouri, will be held at 2:00 p.m., Sunday, October 23, 2022 at Amy Cemetery, under the direction of Robertson-Drago Funeral Home.  
Mrs. Cooper passed away October 18, 2022, at Mercy Hospital, Springfield, Missouri.  
She was born April 24, 1935 at Rover, Missouri to John Lafayette Harris and Bessie Huddleston Harris. Norma attended school at Thomasville, Missouri and graduated with the Class of 1952. After graduating she moved to West Plains and lived with her Aunt Nora Harris Adams and worked at the Cinderella Confectionery. On April 26, 1953 she was married at Melbourne, Arkansas, to James Henry Cooper, who preceded her in death on July 14, 1991.  They lived at Ft Benning, Georgia where James was stationed in the Army. She is survived by one daughter, Vicki Lynn Cooper who was born at Ft. Benning. After service she and her family moved to West Plains.  Norma was a homemaker and was a babysitter for several years. Later, she was employed at International shoe Factory. The year 1967 they moved to the Cooper family farm where they ran a dairy and continued to work at the International Shoe factory. After Jim's death she continued to farm with the help of her Grandson, LJ Tackitt. She farmed until her death at the age of 87.  Mrs. Cooper was a member of the Assembly of God Church.
She is survived by her daughter, Vicki Lynn Cooper, Caulfield, Missouri; one granddaughter, Kala Trantham and husband, Bryan, Caulfield, Missouri; her great-grandson, Cooper James Trantham; Leland Tackitt, Cooper's Papa; sister-in-law, Lola Brown, Caulfield; and several nieces and nephews.
Her parents, husband, one grandson, LJ Tackitt, two brothers Kenneth Harris (Dessie) and John Harris (Dot), four sisters, Eunice Huddleston (Buster), Velma Walker (Roy), Margie Amyx (James) and Joann Willard (Edward), her father-in-law and mother-in-law, Lloyd and Hester Cooper, one nephew, Kenny Harris, and five nieces, Vonna and Vonda, Cathy Amyx, Sueann Walker Branum and Janice Amyx, preceded her in death.  
Memorial contributions may be made to Amy Cemetery or Elk Creek Cemetery and may be left at or mailed to Robertson-Drago Funeral Home, 211 West Main, West Plains, MO  65775.