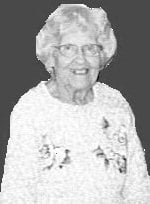 Graveside services for Bernice Pauline (Walsh) Gibson, 86, West Plains, Missouri, will be held at 2:00 p.m., Sunday, July 6, 2014 at the Howell Memorial Park Cemetery under the direction of Robertson-Drago Funeral Home.
Mrs. Gibson died 5:00 P.M., Wednesday, July 2, 2014 at West Vue Nursing Center. She was born October 29, 1927 to the late John J. Walsh and Ida M. Grable Walsh in Mitchell, Nebraska.  Bernice was married to Glen Robert Gibson in Torrington, Wyoming on April 15, 1950. To their union were born three children, Cecil Robert, Arthur William and Mary Annell Gibson.
Bernice and Glen moved from Wyoming to Colorado, where they lived for several years before moving the family to Alton, Missouri in the late 60's. Bernice worked at the Alton Bank for many years until her retirement. She and Glen enjoyed their friends in Alton. After her retirement, Bernice and Glen moved to Mansfield where she enjoyed volunteering at the Library, many friends and their daily walks to the Post Office before moving to West Plains in 2007.
Bernice is preceded in death by her parents, her siblings, her husband, Glen Robert Gibson, her daughter, Mary Annell Sippy, and her son, Arthur William Gibson.
She is survived by her grandchildren, Jennifer Miller, husband, Christopher, Eric Gibson, wife, Emily, all of West Plains, Marcus Sippy, Dallas, Texas, David Sippy and Deidra Sippy, both of Tulsa, Oklahoma; her great-grandchildren, Samuel and Hanna Miller and Jack Gibson; son, Cecil Robert Gibson; daughter-in-law, Carolyn Gibson; son-in-law, Mark Sippy; numerous nieces, nephews and friends; and her special family at West Vue.
Mrs. Gibson will lie in state from 4:00 p.m., Saturday, July 5th until noon, Sunday, July 6th at Robertson-Drago Funeral Home. Memorial contributions may be made to St. Mary's Catholic Church and left at Robertson-Drago Funeral Home.