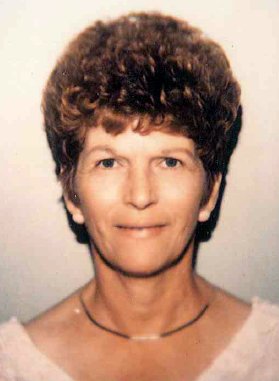 Funeral services for Adele Wells, 77, Caulfield, Missouri, will be held at 10:00 a.m., Thursday, July 10, 2014, in the Rose Chapel at Robertson-Drago Funeral Home
Mrs. Wells died at 5:55 p.m., Sunday, July 6, 2014, at Hospice of the Ozarks, Mountain Home, Arkansas.
She was born October 11, 1936, at Caulfield, Missouri, to James Raymond "Ray J." Harper and Mary "Elsie" Lawing Harper. She attended the schools of Oak Grove and West Plains High School and on March 12, 1955, was married at West Plains, Missouri, to J. T. Wells. She worked at International Shoe Company, Baxter Lab, was a waitress and retired from Cloud 9 Ranch after many years. Mrs. Wells enjoyed her family and treasured the time she spent with them. Adele was a member of the Bakersfield Church of Christ for many years. She was a wonderful lady that enjoyed life and loved to smile and laugh. J. T. was the love of her life. She was a beloved daughter, sister, wife, mother, mother-in-law, grandmother, great-grandmother and aunt and will be greatly missed.
She is survived by her husband, J. T. Wells, of the family home; three children, Ronnie J. Wells, wife, Susan, Ronda K. Ledbetter, husband, Joe, all of West Plains, Missouri and Billy R. Wells, wife, Kellie, Bakersfield, Missouri; seven grandchildren, Dustin W. Ledbetter, wife, Brandi, Ashley D. Cotter, husband, Greg, John R. Wells, Kassi J. Dupler, husband, Bo, Gretchen J. Noon, husband, Jeff, Taylor L. Wells and Caleb W. Wells; eight great-grandchildren, Adie and Layne Dupler, Ellie Wells, Eli and Eden Cotter, Reece and Heidi Ledbetter, Libby Noon and one on the way; four sisters, Lenora Frazier, Dora, Missouri, Sue Lair, husband, Jerry, Jeannie Morris, husband, Steve and Sharon Moore, husband, David, all of West Plains, Missouri; two sisters-in-law, Lois Harper and Jackie Wells, both of West Plains, Missouri; several nieces and nephews; and special friends Betty Meeks and Verlene Halford.
Her parents, one brother, Glen F. Harper, one sister, Kay Rhine, father-in-law and mother-in-law, Bill and Flossie Wells and three brothers-in-law, Truman H. Wells, Dallas Frazier and Ray Rhine, precede her in death.
Mrs. Wells will lie in state from 4:00 p.m., Wednesday until service time at Robertson-Drago Funeral Home. Burial will be in the Fowler Cemetery. Memorial contributions may be made to Fowler Cemetery, and may be left at Robertson-Drago Funeral Home.