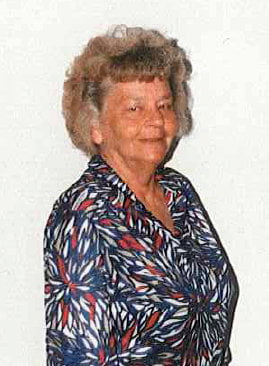 A farewell to this world for Wanda Bridges, 83, West Plains, Missouri, will be held at 2:00 p.m., Wednesday, July 9, 2014, in the Rose Chapel at Robertson-Drago Funeral Home
Mrs. Bridges went to the Kingdom of God for her eternal life of youth, health and glory on July 5, 2014. She was extremely happy, pain free and peaceful in her last days with her family. She was sound asleep in her home when the Lord brought her to Heaven. The Holy Spirit comforted and cradled her as she was going through her transition to eternal life.
She was born January 18, 1931, her 83 years of physical life where many have been touched by her humor, zest for life and her fighting spirit.
She is survived by her husband, Jack Bridges whom she celebrated 63 years of marriage on April 28th; also survived by her daughter, Cathy "Blondie" Bridges, grandson Peter Bridges and his family, wife Samantha, great-granddaughters, Jaclyn 13, Katlyn 18, Ashlyn 23 and great-great-granddaughter, Mikala, 3; granddaughter, Brandy Bridges Parker, great-granddaughters, Elizabeth 14, Macy 20, Shealy 22 and great-great-granddaughter, Amilia, 2 and granddaughter, Danielle all of New Iberia, Louisiana; her sister and brother-in-law, Pat and John Arnold of Carmi, Illinois; nieces, Teresa of Illinois, Linda of Oklahoma City, Alicia of Wichita; nephews, Randy and Mike of Illinois, Rodney of New Orleans, Larry, Dennis and Randy of Florida.
Final resting place will be at Mt. Zion Cemetery at Olden, Missouri, where her body will be placed with her son Terry, mother-in-law and father-in-law, Amos and Ruby Bridges and many family members that have gone before her.
The family will be celebrating her life with friends and family from 6:00 until 8:00 p.m., Tuesday at Robertson-Drago Funeral Home.
She was an avid gardener and loved all of nature; however her thoughts were that flowers and plants belonged in the ground; therefore, the family asks that in lieu of flowers, donations be made to the Mt. Zion Cemetery where she spent many hours clearing grass from family headstones and was always so happy when the grass was freshly cut. Memorial contributions may be left at Robertson-Drago Funeral Home. Her spirit will live on through us all.