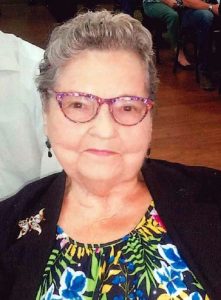 Funeral services for Elizabeth Marie "Betty" Franks, 85, West Plains, Missouri, will be held at 10:00 a.m., Friday, October 14, 2016 at the Langston Street Chapel of Robertson-Drago Funeral Home.
Mrs. Franks passed away at 9:00 a.m., Sunday, October 9, 2016 at her home.
She was born January 21, 1931, at Kingfisher, Oklahoma, to Roy H. Skinner and Edna Marie McIntosh Skinner.  She was married June 4, 1954 in the State of California to Delman "Del" Franks.  On October 27, 1991, she was married at Lone Wolf, Oklahoma, to J. Thelbert Franks, who preceded her in death on September 21, 2016.  Betty worked in the Food Industry her entire adult life.  She assisted with blood drives at the Veteran's clinic, was a member of the VFW Auxiliary, American Legion Auxiliary and of Downsizers.  Mrs. Franks was a member of the First Church of God.
She is survived by two step-sons, Doyle Franks and wife, Kathy and Daniel Franks and wife, Cindy, all of West Plains; four grandchildren, Shawna Cogar and husband, Steven, Chyrise McCall and husband, Rex, Ryan Lyda and wife, Jody and Brooke Franks; four step-grandchildren, Tara Riley and husband, Will, Randa Hugg and husband, Josh, Nathaniel Franks and wife, Ashley and Matthew Franks and wife, Kayla; eight great-grandchildren; eleven step-great-grandchildren; two sisters, Roberta Dress and husband, Harry and Mary Lou Peake and husband, Michael, all of Manistique, Michigan; one brother-in-law, Randall Franks and wife, Elaine, West Plains; and several nieces and nephews.
Her parents, husband, Thelbert Franks and two children, Deborah Marie "Debbie" Lyda and Del Alan "D.A." Franks, precede her in death.
Visitation will be from 5:00 until 7:00 p.m., Thursday, at the Langston Street Chapel of Robertson-Drago Funeral Home. Burial will be in the Oak Lawn Cemetery.  Memorial contributions may be made to the First Church of God Audio Visual Fund and may be left at Robertson-Drago Funeral Home.