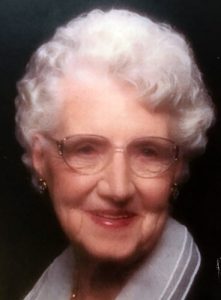 Graveside services for Monna Ann Farmer, 100, Springfield, Missouri, will be held at 2:00 p.m., Monday, October 10, 2016 at Smith Chapel Cemetery, under the direction of Robertson-Drago Funeral Home.
Mrs. Farmer went to her heavenly home at 11:35 p.m., Thursday, October 6, 2016 at The Maples, Springfield, Missouri.
She was born September 17, 1916, at Gainesville, Missouri, to William Fred Freeman and Liddie Durham Freeman.  Monna Ann Farmer lived a long and full life.  Her 100 years and 19 days on this earth touched hundreds of people, brought many to Christ and made life joyful for all who knew her. She was married to Coleman T. Watson for thirty-two years until his death on May 21, 1971. Monna was married to Ess C. Farmer on July 28, 1992 until his death on December 3, 1994. Monna was a devoted and faithful wife.  She was a Christian woman baptized at the age of 13 in 1929. She was a member of the Lord's body at Kansas Expressway Church of Christ in Springfield, Missouri.  She gave loving and excellent care for 22 years in the nursing profession at Myers Clinic in Rolla, Missouri.  Monna received her education in Ozark County Missouri and held an honorary diploma from Gainesville High School.  She was the matriarch of the family and led each one through good times and tough times.
Monna was a wonderful mother to Darlene L. Smith of Springfield, Missouri (husband Lyman Smith-deceased) and step-son Keith Farmer of Branson, Missouri; She was an exceptional grandmother to Debi and Art Robinson (deceased), Teresa and Eric Clark, Kenneth Paul Smith (deceased), Kevin and Tammy Smith, Angela and Mike Moody and Shane Farmer. She mentored and loved her great-grandchildren: Robin and Will Kennedy, Darrin and Emma Robinson, Terra Davis, Shanna Castillo, Lana O'Hara, Nathan Hardesty, Marcus Clark, Coleman and Jenna Smith, Kaleb Moody (deceased), Morgan Moody and Angelica Cisneros. She loved her great- great-grandchildren with all her heart: Mariah, Miranda and Mikayla Kennedy, Lily and Niya Robinson, Isaiah Robinson, Jaden Green, Alijah Davis, Lexi Castillo, Madeline O'Hara, Daniella Cisneros and Sylas Mantle.
She was also preceded in death by her brothers Merl and Verl Freeman and sisters Lola Newton, Flo Sanders, Farol Routh, Doris Thornton and Dorothy Stephens.
Mrs. Farmer will lie in state from 5:00 until 9:00 p.m., Sunday, at Robertson-Drago Funeral Home.  Memorial contributions may be made to Smith Chapel Cemetery or Fair Haven Children's Home and may be left at Robertson-Drago Funeral Home.