Betty Joyce Stanley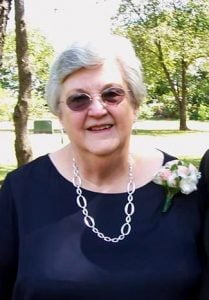 Funeral services for Betty Joyce Stanley, 79, Tecumseh, Missouri, will be held at 2:00 p.m., Saturday, February 18, 2023, in the Langston Street Chapel of Robertson-Drago Funeral Home.  In memory of Betty, the family has asked that those in attendance wear something with flowers or bright colors.
Mrs. Stanley passed away at 1:36 a.m., Monday, February 13, 2023, at Cox South in Springfield, Missouri.
She was born August 3, 1943, at Lufkin, Texas, to Reverend J.E. and Ruby Brock Harrell.  On April 9, 1965, she was married at Lufkin, Texas, to John Lee Stanley, to whom she was married for almost fifty-eight years.  Betty made the most of her seventy-nine years.  She was the Women's Editor of Lufkin Daily News and the office manager of the business she and her husband owned.  After moving to Missouri, she worked in the communications department at Ozarks Medical Center, was the editor of Ozark County Times, and was currently the pastor at Needmore Church of God, serving in that capacity for more than twenty years.  She loved gardening and sowing seeds, not only sowing seeds in her garden, but also sowing the seeds of Christ.  Betty's number one focus was her church, especially the children of the church.  Her home was a sanctuary for strays, including pets and people.  She firmly believed there was hope for every soul.
She is survived by her husband, John, of the family home; one son, Robert Stanley and wife, Gina, Topeka, Kansas; one granddaughter, Vicki Singer and husband, Zach, Saint Louis, Missouri; one great-granddaughter, Clara Singer, Saint Louis, Missouri; one sister, Zella Bunch, Fairfield, Texas; many nieces and nephews; and a host of friends.
Her parents, three brothers, and two sisters preceded her in death.
Visitation will be from 6:00 p.m. to 8:00 p.m., Friday, in the Langston Street Chapel of Robertson-Drago Funeral Home.  Memorial contributions may be made to Needmore Church of God and may be left at or mailed to Robertson-Drago Funeral Home, 211 West Main, West Plains, MO  65775.