Bonnie Lee James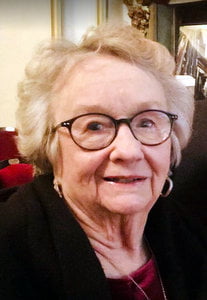 Funeral services for Bonnie Lee James, 86, Joplin, Missouri, formerly of West Plains, will be held at 2:00 p.m., Wednesday, February 22, 2023, in the Rose Chapel at Robertson-Drago Funeral Home.    
Bonnie L. James left this earth on February 14, 2023 to join her heavenly Father, her beloved husband and other loved ones.  She leaves a legacy of loving friends and family who will miss her dearly.
Bonnie was born November 19, 1936 to Allen Tilson and Alice Lawing Tilson at the family home in Cureall, Missouri. 
She was married to the love of her life, Herbert Charles James, at Cureall, Missouri on April 26, 1957.  They were blessed with over 56 years together prior to his passing. 
Mrs. James attended and graduated from Bakersfield High School with the Class of 1955.
Mrs. James was an assistant to West Plains dentist Dr. Skelton before being employed in the office of Richard Brothers West Plains for many years. Her last 20+ years of employment were spent with Missouri State Family Services Division West Plains as a case worker where she was employed until her retirement.
Bonnie was a longtime member of First Baptist Church West Plains where she served alongside her church family.  She also served with her husband, who was a Lions Club member, as a Lioness in the West Plains chapter of the organization to promote awareness and raise funds for the various causes supported by the Lions Club. 
Bonnie is survived by her two children, Beverly James and Shawn Hensley of Glendale, Arizona, Keith James and Melissa of Joplin, Missouri and six loving grandchildren, Nicole Lopez and husband Mark of Laguna Hills, California, Roger Bradford and wife Jennifer of Phoenix, Arizona, Samantha Daum and husband Greg of Eagle River, Alaska, Lindsey James of Webb City, Missouri, Beau James of Webb City, Missouri and Kylie Davis of Carl Junction, Missouri; as well as seven great-grandchildren, Kanoa, Makai and Leia Bradford, Evan and Landon Lopez, Lola James and Lauren Daum; sister-in-law Louise Tilson of West Plains, Missouri and sister-in-law Sue Roop and husband Jack of Grandview, Missouri as well as multiple nieces and nephews.
She is preceded in death by her parents, her husband Herbert C James, two brothers , Blaine Tilson and Glen Tilson,  two sisters, Evelyn Lambeth and Juanita Williams and daughter-in-law Evelyne James.
Besides being passionate about and caring for her family, Bonnie was a gifted seamstress.  Through the years her perfectly stitched creations included prom dresses, sports coats, men's leisure suits, beach jackets for the boat ride back after water skiing at Norfolk Lake, majorette baton uniforms for the Christmas parades, costumes for school performances, outfits for her grandchildren, quilts and draperies.  One of her favorite activities in retirement was camping and riding ATVs at Cloud 9 Ranch in Caulfield, Missouri.  Always with an edge about her, Bonnie's grandchildren are confident she passed on February 14 in order to be the Valentine's Day gift for their Pop Pop/Grandpa.
Mrs. James will lie in state from 5:00 until 8:00 p.m., Tuesday, at Robertson-Drago Funeral Home.  Burial will be in Oak Lawn Cemetery.  Memorial contributions may be made to West Plains Lions Club  to support vision enhancement and eyeglass distribution in the local area and may be left at or mailed to Robertson-Drago Funeral Home, 211 West Main, West Plains, MO  65775. 
She told us to tell everyone……"Well Anyway….".