Bettye Fowler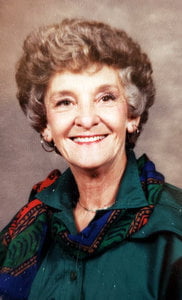 A memorial service for Catherine Elizabeth Blackshire Fowler, known as Bettye to all, 95, West Plains, Missouri, will be held at 1:00 p.m., Saturday, December 10, 2022 at First Christian Church, West Plains, under the direction of Robertson-Drago Funeral Home.  
Mrs. Fowler passed away peacefully at the West Vue Sleepy Oaks home in West Plains, Missouri, on December 3, 2022.
Bettye was the younger of two daughters born to Cecil Earl Blackshire and Otilla Embry Blackshire on March 12, 1927.  While most of her childhood was spent in Morrilton, she moved to Harrison for her junior year of high school, living with her older half-sister, Beryl Newman Murray.  During her year in Harrison, Bettye began walking to school with a classmate who lived next door.  And though they never dated in high school, her neighbor and walking partner, Marvin Fowler, would later become the man Bettye would walk through life with for 73 years of marriage.?Bettye returned to Morrilton for her senior year of high school, then obtained a degree in vocal music from Arkansas State Teacher's College (now University of Central Arkansas) in Conway.  While attending college she won the title of Miss Morrilton and competed in the Miss Arkansas pageant, where she captured first place in the talent portion of the competition singing Oscar Hammerstein's then-popular "Indian Love Call."   Bettye loved to sing and to teach others to sing.  After college, she taught vocal music in public school systems, first in Crossett, then in Van Buren.  While teaching in Van Buren she and Marvin rekindled their relationship and married on June 20, 1949, just before Marvin's final year of medical school at the University of Arkansas in Little Rock.   After their 1954 move to West Plains, where Marvin started his medical practice, Bettye organized choral groups, taught young people to sing, and volunteered weekly at the West Vue Nursing Home, carrying in boxes of songbooks from her church, leading devotionals and singing hymns with West Vue's elderly residents.  She was a longtime member of the Curry Street Church of Christ, before joining the First Christian Church in West Plains where she sang in the choir until age 89.  Bettye and Marvin raised three children, Richard, Robin, and Rex in a home they built on West 3rd Street in West Plains.  Bettye was a passionate and competitive bridge player.  She loved to organize bridge games at her home, and seemed to have a different brightly patterned jacket and matching pair of shoes to wear for every foursome.  She enjoyed hosting dinner parties inside her home and in her backyard for friends and neighbors, Sunday School class members, her extended family, and for others she'd just met.  Bettye cherished her friendships wherever she lived.  These friends were deeply committed to her, even as her health deteriorated in her later years. Marvin, Richard, Robin, and Rex will forever be grateful to them. The family is also appreciative of the compassionate care Bettye received in the final years of her life from the caregivers at West Vue. 
Bettye is survived by her husband and the love of her life, Marvin; their son and daughter-in-law, Richard Tilden Fowler and Barbara Roll Fowler of Fayette, Missouri; their daughter and son-in-law, Robin Elizabeth Fowler Lee and Rod Lee of Camano Island, Washington; their son, Rex Fowler of Hartford, Connecticut; son-in-law, James 'Jim' Mauer of St. Louis; five grandchildren, Ryan Fowler and his spouse, Emily, Tommy Mauer, Dane Fowler, David Mauer and his spouse, Kristin, Melanie Mauer, and two great-grandchildren, Cora  Fowler and Bayleigh Fowler.  Survivors also include two nephews and one niece, John Jeffrey Scroggin, William Earl Scroggin, and Phyllis Scroggin McKuin, along with their spouses, children, grandchildren, and great-grandchildren. 
Bettye loved the children and family members of her sister, Billie Jeanne as if they were her own.
Visitation services will be held from 6:00 until 7:30 p.m., Friday, at Robertson-Drago Funeral Home.  Burial will be in Howell Memorial Park Cemetery.  The family requests that those who wish to make a memorial gift in Bettye's name please consider the Martha Vance Samaritan Outreach Center, 715 Missouri Avenue, West Plains, MO 65775 (www.samaritanoutreachcenter.com) and may be left at or mailed to Robertson-Drago Funeral Home, 211 West Main, West Plains, MO  65775. Online condolences may be expressed at www.robertsondrago.com.   
"And Lord, haste the day when my faith shall be sight, the clouds be rolled back as a scroll; the trump shall resound, and the Lord shall descend – Even so, it is well with my soul!"