Beverly Kay Jones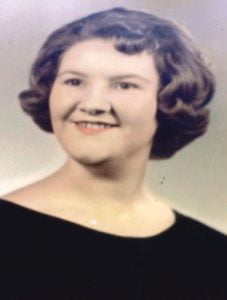 Funeral services for Beverly Kay Jones, 74, Pomona, Missouri, will be held at 2:00 p.m., Friday, November 5, 2021 in the Rose Chapel of Robertson-Drago Funeral Home.  
Beverly, who loved to be called Mom by her kids, Bee Bee by her grandson, Sis by her brothers, Sugar Babe by her husband, and Aunt Bev by her nieces and nephews, departed her loving family on October 30, 2021.  Beverly was born in West Plains, Missouri, on August 29, 1947, to Luther and Mary Pliler Barnett.  Bev was mother to Melissa and Micheal.  She raised her children with love and devotion with her husband, Marion Levi (M. L.) Jones, whom she married on June 13, 1965, in West Plains, Missouri.  As a Richards School cook, Bev was known for her love of the children and coworkers.  Bev also loved working in the fabric department at Wal-Mart, where she was able to live out her hobbies:  sewing, quilting, and painting.  Bev was also a big fan of the St. Louis Cardinals.
Beverly is survived by her husband, M. L.; her daughter, Melissa Jones, of Seminole, Florida; her grandson, Levi Jones, of Lampasas, Texas; brothers, Jr. Barnett and wife, Judy, of Willow Springs, Ronnie and wife, Kathy, of Pottersville,  and Randy and wife, Becky, of West Plains.
Beverly is preceded in death by her son, Micheal Lee Jones, and her parents.  
Visitation will be from 6:00 to 8:00 p.m., Thursday, at Robertson-Drago Funeral Home.  Burial will be at New Liberty Cemetery.  Memorial contributions may be made to New Liberty Baptist Cemetery and may be left at or mailed to Robertson-Drago Funeral Home, 211 West Main, West Plains, MO  65775.