Marion Joyce Stanley Work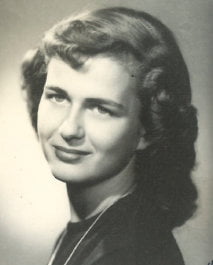 Marion Joyce Stanley Work, 87, West Plains, Missouri, passed away in her sleep, Sunday, October 31, 2021.
Marion was born June 10, 1934, in her grandmother's home, to Clarence Hamilton Stanley and Mabel Minerva Wheeler Stanley, in Parlier, California.
Marion graduated from Washington Union High School, Easton Fresno, California, in 1952.  She was awarded for her speed and proficiency in typing and excellent penmanship.  After high school, she began a long career with Pacific Bell Telephone Company, which later became AT&T, from where she retired.  On February 27, 1955, she married Casey Nivelle Work, and to this union had two children, daughter, Janet Lynn Work Harrison, and son, Kent Casey Work.  Marion loved working, and her skills were highly sought after.  She sacrificially worked for, and gave to, her children, grandchildren, and great-grandchildren.  She was a wonderful role model.
She is survived by her daughter, Janet and husband, Craig; grandson, Jacob Harrison and wife, Shayla, and their boys, Kael, Tripp, and Leif; granddaughter, Amanda Richardson and husband, Derek, and their children, Reece Lewin, Aurora Lewin, and Kennedy Richardson; and grandson, Nicholas Work and wife, Kristle, and their daughters, Kaylynn, Anna, Patience, and Aria, who will definitely miss their "Wa Wa".  Marion also leaves behind her beloved sisters, Anita Taylor and Kathie Kelderhouse Davis; brother, John Kelderhouse; sister-in-law, Darlene; and many nieces and nephews.
Her son, Kent, and granddaughter, Casey Lauren Harrison, preceded her in death.
Marion's family will remember and celebrate her privately.  Life and time are precious; take time and log on to redcross.org. Save a life.  Donate blood.