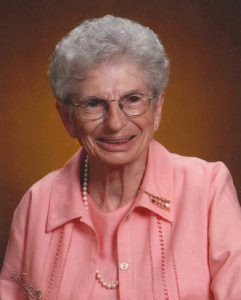 Beverly Jean Loy Keck, 91, of West Plains, Missouri, formerly of Palmyra, Missouri, passed away March 6, 2017, at West Vue Nursing Center.
She was born May 20, 1925, at Chapman, Kansas, to Charles Walter Loy and Elizabeth Mariah Lowe Loy.  On June 19, 1949, she was married at Scherer Memorial Lutheran Church, Chapman, Kansas, to Lee Eugene Keck, who preceded her in death.  Beverly graduated in 1944 from Dickinson County Community High School in Chapman and was awarded a Sears Scholarship for outstanding 4-H club members.  In 1948, she earned a Bachelor of Science degree in vocational home economics from Kansas State University, Manhattan, Kansas.  She taught home economics in public schools in Kansas, Oklahoma and Missouri and had an impact on the lives of thousands of students.  She was named "Outstanding Teacher of the Year" in 1974 and 1979 by the Palmyra, Missouri School District where she established the Parents as Teachers program.  She retired from the Palmyra School District in June, 1990.  In addition to teaching, she and her husband owned and operated weekly newspapers and commercial printing businesses in Friend, Nebraska, Jay, Oklahoma, Palmyra and Ralls County, Missouri.  She was a member of the First United Methodist Church, West Plains.  In Palmyra, where they lived for more than thirty years, she was a member of the Palmyra United Methodist Church and served on numerous church committees.  Mrs. Keck was also a member of the Christian Fellowship League, Chapter IE of PEO, Pierian Club and was past president of Alpha Rho Chapter of Alpha Delta Kappa teachers honorary sorority and a 4-H club leader.
She is survived by her three daughters and their families, Marsha Jean Keck Deavers and husband, John Deavers, Elkton, Virginia and their son, Atticus, Vail, Colorado; Elizabeth Ellen Keck and husband, Ken Leonard, and their daughter, Sasha Leonard Keck, Bentonville, Arkansas; and Rebecca Lee Legler and husband, Bob Legler, West Plains and their children, Kristin Wages and husband, Chris, Centerton, Arkansas, Matthew Legler and wife, Heather, West Plains and Eric Legler and wife, Desirae, West Plains; and nine great-grandchildren.
Her parents, husband, one sister, Maxine Ruth Loy Brooks and three brothers, LeRoy Charles Loy, James Edward Loy and John Vernon Loy, precede her in death.
A private memorial service will be held.  Memorial contributions may be made to Tuberous Sclerosis Alliance, 801 Roeder Road, Suite 750, Silver Spring, MD 20910-4487, www.tsalliance.org, an organization of choice and may be sent to Beckie Legler in care of First United Methodist Church or may be left at Robertson-Drago Funeral Home.