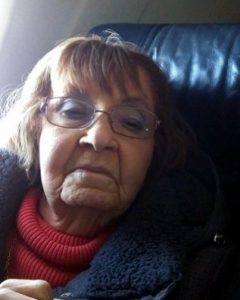 Funeral services for Doris Roselyn Cowens, 78, of Charlotte, North Carolina, formerly of Rover, Missouri, will be held at 2:00 p.m., Monday, March 6, 2017 at His Place Church, under the direction of Robertson-Drago Funeral Home.
Mrs. Cowens passed away at 7:35 a.m., Friday, March 3, 2017 at her daughter's home in West Plains.
She was born July 6, 1938, to Aloyouis Tepe and Rose Schuette Tepe.  On December 23, 1969, she was married at Dodge City, Kansas, to Max Wayman Cowens, who preceded her in death on November 17, 2002.  Before her retirement, Mrs. Cowens was an expeditor at Marathon Electric.  She enjoyed NASCAR, football and soccer.  She loved spending time with her grandkids and was known as "BonBon".  Mrs. Cowens was a member of His Place Church.
She is survived by three children, Brenda Perry and husband, Dewayne "Arkie", Charlotte, North Carolina, Rhonda Ball and husband, Jim, West Plains, Missouri and Kenton Lewis and wife, Tammy, Moberly, Missouri; six grandchildren, Dustin Perry, Tonya Warren and husband, Matt, Vanessa Tackitt, Kayla Lewis, Kyle Lewis and Kenlee Lewis; two great-grandchildren, Lilly and Lexi Warren; and several nieces and nephews.
Her parents, husband, one brother, Harold Tepe, one sister, Mary Jane Kimminau and one nephew, Bret Tepe, precede her in death.
Visitation will be from 6:00 until 8:00 p.m., Sunday, at Robertson-Drago Funeral Home. Burial will be in the Jolliff Cemetery.  Memorial contributions may be made to Three Rivers Hospice or His Place Church and may be left at Robertson-Drago Funeral Home.