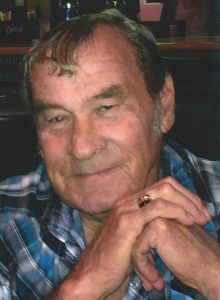 Funeral services for Billy M. Collins, 75, West Plains, Missouri, will be held at 2:00 p.m., Monday, September 12, 2016 in the Rose Chapel at Robertson-Drago Funeral Home.
Mr. Collins passed away at 4:43 a.m., Wednesday, September 7, 2016 at Mercy Hospital, Springfield, Missouri.
He was born November 26, 1940, in Howell County, Missouri, to Shelt and Katie Collins.  On February 10, 1962, he was married to Darlene Long.  Mr. Collins was a logger for many years and after his retirement, he enjoyed working on the farm and working in his dog kennel.  He also enjoyed spending time with family and friends and loved life to the fullest.  He was deeply loved and will be greatly missed.
He is survived by his wife, Darlene Collins, of the family home; three children, Teresa Pruitt and husband, Darren, West Plains, Missouri, Sandra Wake and husband, Marty, Peace Valley, Missouri and Stanley Collins and wife, Karen, West Plains, Missouri; six grandchildren; four great-grandchildren; three sisters, Laverne Hightower, West Plains, Missouri, Lillian Shepard, Wabash, Indiana and Bernice Daughtery, Imperial, Missouri; and several nieces and nephews.
His parents, one grandchild, one great-grandchild, two sisters and one brother, precede him in death.
Visitation will be from 6:00 until 8:00 p.m., Sunday, at Robertson-Drago Funeral Home. Burial will be in the Howell Memorial Park Cemetery.