Billy Ray Ellison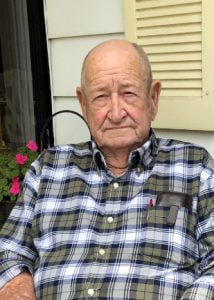 Funeral services for Billy Ray Ellison, 88, West Plains, Missouri, will be held at 2:00 p.m., Thursday, December 3, 2020 at Calvary Pentecostal Tabernacle, under the direction of Robertson-Drago Funeral Home.
Mr. Ellison passed away at 2:19 p.m., Friday, November 27, 2020, at Ozarks Medical Center.
He was born February 8, 1932, at Muldrow, Oklahoma, to William Ellison and Ida Thompson Pliler.  On December 22, 1962, he was married at West Plains, Missouri, to Lois Edna Hicks.  Mr. Ellison was a veteran having served with the United States Army.  He was a Staff Sergeant in Korea.  Bill retired from the City of West Plains as Electrical Foreman after over forty years of service.  He was a reserve Police Officer for ten years and a volunteer fireman for twenty-five years.  Following his retirement, he was a school bus driver for West Plains R-7 School District and was a car transporter for several local auto dealers.  He loved his family, his church and working in his garden.  Bill enjoyed woodworking, hunting and fishing.  Mr. Ellison was a faithful member of Calvary Pentecostal Tabernacle for fifty-four years.
He is survived by his wife, Lois Ellison, of the family home; four children, Joyce Vonallmen and husband, Dennis, West Plains, Sherri Orr and husband, Chris, Alton, Missouri, Missy Heath and husband, Jason, West Plains and Michael Ellison and wife, Sondra, West Chester, Ohio; eight grandchildren, Ricky Vonallmen, Randy Vonallmen, Cynthia Benge, Seth Ellison, Mika Ellison, Jarissa Wright, Kelsie Orr and Christian Orr; eleven great-grandchildren, Charli Anne, Braydon, Madyson, Taylor, Luke, Ashton, Jordann, Zack, Lexi, Kamren and Avree; two brothers, Gary Pliler, Republic, Missouri and Ted Pliler, West Plains; two sisters, Mildred Young and Faye Collins, both of West Plains; and several nieces and nephews.
His parents, one sister, Betty Moorhead and two brothers, Bobby Ellison and Dallas Pliler, preceded him in death.
Mr. Ellison will lie in state from 5:00 until 8:00 p.m., Wednesday, at Robertson-Drago Funeral Home.  Burial will be in the Howell Memorial Park Cemetery.  Memorial contributions may be made to Calvary Pentecostal Tabernacle or The Gideon Bible Society and may be left at or mailed to Robertson-Drago Funeral Home, 211 West Main, West Plains, MO  65775.