Robert Franklin Crawford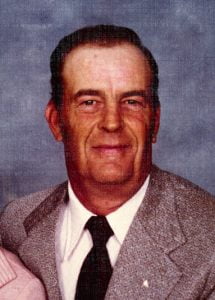 Graveside services for Robert Franklin Crawford, 88, West Plains, Missouri, will be held at 2:00 p.m., Friday, December 4, 2020 at Howell Memorial Park Cemetery, under the direction of Robertson-Drago Funeral Home.
Mr. Crawford passed away at 8:46 p.m., Sunday, November 29, 2020, at his home.
He was born at Summersville, Missouri to Edna and Wayne Crawford on September 9, 1932.  He was united in marriage to Juanita Faye Roberts at Houston, Missouri on December 25, 1957. They would have celebrated their 63rd wedding anniversary in 2020. Bob and Juanita were high school sweethearts. They did not have children but enjoyed all of their nephews and nieces.  When he was young, he spent a couple of summers in Wyoming with his mother's sister and husband, Olyn and Bob Baker. He loved spending time with them hunting and fishing. He had fond memories of those days although less fond of his trip home alone on a bus with his destination (West Plains, MO) pinned to his shirt and money for emergencies sewed into his clothing. There were no cell phones to "call home" when he arrived. He also spent many days/weeks with his grandmothers, Margaret Crawford and Minnie Riley. He enjoyed time with his beloved Uncles James and Paul and in early days he hunted for arrowheads on the Riley farm. As he got older he spent many hours working on the family farm. He worked in the fields plowing land, harvesting crops and spent a lot of time during the summer bailing hay on the Crawford and Riley farms.  Bob graduated from Summersville High School in 1950 and attended college at Southwest Missouri State. He was in the United States Army from 1953-55 and after training at Ft. Leonard Wood, Missouri he was assigned to Korea in 1953. The Korean War ended when he was on a ship to Japan, then to Korea to serve. In Korea he worked on large machines clearing land. Returning from Korea he landed in California and chose to take a train for several weeks at home. During that train ride he remembered seeing the beautiful country in the West and planned to take Juanita to see it. Bob and Juanita made their home in Summersville where Juanita taught school and Bob worked for the Highway Dept. Both of them retired in 1998. They built their home on the Crawford farm land and lived there until 2016 when they moved to West Plains to be close to family and doctors. On their farm he raised cattle and farmed the land. Bob enjoyed hunting and fishing throughout his life. He went on many fishing trips with Dr. Hampton and enjoyed telling of those trips. He also loved to talk about raising cattle and all of the experiences he had.  Bob was a member of the Masonic Lodge for over 60 years and served as Master of the Lodge. He recently said he thought he might be the member who had been in the Lodge in Summersville the longest. He received his fifty year pin in 2009 at his home in Summersville. Juanita was active in the Eastern Star.  Bob accepted Jesus as his Savior in 1944 and was baptized in Jacks Fork River by Rev. Milton Elmore. He lived a Christian life. He took care of his parents when they were ill in many ways whether it was plowing the garden for his mother, checking in on her every day when his dad was in the hospital, or taking her meals Juanita prepared. He made certain his dad got to dialysis in Salem three times a week. When Bob had to work Juanita drove his dad and mom to Salem. During those days Juanita taught school and Bob worked for the Highway Dept., then they took care of their own farm duties and took care of the needs of Bob's parents.
Preceding him in death were his parents, Wayne and Edna Crawford, grandparents and father-in-law and mother-in-law, James and Ruth Roberts.
He leaves to mourn his wife of sixty-three years, Juanita Crawford; one sister, Wanda Evelyn Crawford Gant; nephews, Ken and David Gant and their families; sisters-in-law and brothers-in-law, Linda and Ron Gould, Brenda and
Bruce Collins, Donna and Jim Zwiener, Bob and Bonnye Roberts, and James Jr. and Ruth Roberts; and numerous other nieces and nephews.
He will be missed.
Mr. Crawford will lie in state from 5:00 until 7:00 p.m., Thursday, at Robertson-Drago Funeral Home.  Memorial contributions may be made to Alzheimer's Association and may be left at or mailed to Robertson-Drago Funeral Home, 211 West Main, West Plains, MO  65775.