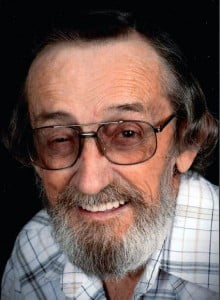 Funeral services for Bobby Lee Haeffner, 79, West Plains, Missouri, will be held at 11:00 a.m., Monday, October 12, 2015 at Immanuel Lutheran Church, West Plains, under the direction of Robertson-Drago Funeral Home.
Mr. Haeffner died at 11:30 p.m., Thursday, October 8, 2015 at West Vue Nursing Center.
He was born August 23, 1936, at Summersville, Missouri, to Walter August Haeffner and Lola Irene Morton Haeffner.  On February 1, 1958, he was married at St. Louis, Missouri, to Barbara Ann Matheny, who preceded him in death on March 19, 2015 and to this union, two children were born, Debbie Haeffner Culpepper and Mike Haeffner.  Mr. Haeffner worked as a carpenter for many years in St. Louis before moving to West Plains, where he worked for the City of West Plains until his retirement in 1998.  He was an avid hunter and fisherman and enjoyed sports of all kinds, being especially partial to the St. Louis Cardinals and the Missouri State Bears.  Mr. Haeffner was an active member of Immanuel Lutheran Church.
He leaves loving memories to be cherished by his brother, Russell Haeffner, sister-in-law Pat Matheny Davis, brother-in-law, Dave Davis, sister-in-law, Lee Lee Matheny, daughter, Debbie Haeffner Culpepper, son, Mike Haeffner, son-in-law, Walt Culpepper, daughter-in-law, Cindi Haeffner; five grandchildren; seven great-grandchildren; and a host of  nieces and nephews.
His parents, wife, sister-in-law, Sherry Haeffner, brother-in-law, Greg Matheny and one grandson, Andrew Brinkley, precede him in death.
Visitation will be from 6:00 until 8:00 p.m., Sunday, at Robertson-Drago Funeral Home. Burial will be in the Summersville Cemetery.  Memorial contributions may be made to Immanuel Lutheran Church and may be left at Robertson-Drago Funeral Home.