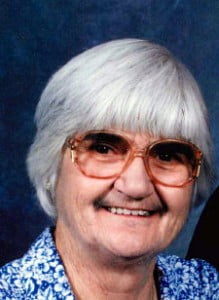 Funeral services for Irene Klingler, 92, West Plains, Missouri, will be held at 10:00 a.m., Saturday, October 10, 2015 in the Rose Chapel, Robertson-Drago Funeral Home.
Mrs. Klingler died at 5:30 p.m., Tuesday, October 6, 2015 at her home.
She was born July 18, 1923, at Twin Bridges, Missouri, to Charles Gilbert and Rosa Ann Tooley Gilbert.  On July 2, 1948, she was married at West Plains, Missouri, to Herman Henry Klingler, who preceded her in death on April 1, 2004.  Mrs. Klingler was a homemaker and worked as a cook at West Plains High School for nine years.  She enjoyed taking care of her family and loved gardening and flowers.  Mrs. Klingler was a member of Second Baptist Church, where she was a Sunday school teacher for the 3-5 year olds for many years.
She is survived by three children, Gary Klingler, wife, Ruth, The Colony, Texas, Lanetta Rowley, husband, Steve, Guthrie, Oklahoma and Judy Murray; four grandchildren, David Klingler, Adam Klingler, Janet Williams, husband, Matthew and Andrew Rowley; one great-grandchild, Lisa Klingler; two sisters, Alma DeWitt, Mountain View, Missouri and Lorene Reavis, Clever, Missouri; several nieces and nephews; and many wonderful neighbors, whom she considered family.
Her parents, husband, one brother, Earl Gilbert, one sister, Ora Gilbert and one infant sister, precede her in death.
Visitation will be from 7:00 until 8:00 p.m., Friday, at Robertson-Drago Funeral Home. Burial will be in the Oak Lawn Cemetery.  Memorial contributions may be made to The Gideon Bible Society and may be left at Robertson-Drago Funeral Home.