Carl Robert Beavers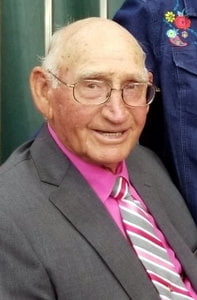 Funeral services for Carl Robert Beavers, 93, West Plains, Missouri, will be held at 2:00 p.m., Wednesday, August 11, 2021 in the Rose Chapel of Robertson-Drago Funeral Home. 
Mr. Beavers passed away at 12:39 a.m., Saturday, August 7, 2021, at his home. 
He was born October 9, 1927, at Advance, Arkansas, to Charlie Beavers and Ada Hall Beavers.  Mr. Beavers was a veteran, having served with the United States Army.  On June 28, 1948, he was married at Mountain Home, Arkansas, to Zelda Warren.  Carl was a farmer and was self employed for most of his life, at one time he had three sawmills and three farms.  He was also a real estate agent, but he always came back to the farm.  Carl farmed up until he was ninety-two, packing silage before he got sick. Mr. Beavers also taught the Gospel, up until he was ninety-two years old and would always be willing to go where he was needed to teach. 
He is survived by his wife of seventy-three years, Zelda Beavers; three children, Robert Beavers and significant other, Faye Mueller, Pottersville, Missouri, Carol Moore and husband, Ernie, Mountain Grove, Missouri and Paula Perry and husband, James, Pottersville, Missouri; seven grandchildren, Robbie Beavers, Robin Morrison, Stacy Hutchinson, Jennifer Wickham, Tangela Ratliff, Jodie Prichard and Matt Worsham; four step-grandchildren; twenty-one great-grandchildren; five great-great-grandchildren; many nieces and nephews; and his brothers and sisters in Christ. 
His parents, one great-grandson, Stetson Hutchinson, four brothers and four sisters, preceded him in death. 
Visitation will be held from 1:00 until 2:00 p.m., Wednesday, at Robertson-Drago Funeral Home.  Burial will be in the Pottersville Cemetery.  Memorial contributions may be made to Pottersville Cemetery and may be left at or mailed to Robertson-Drago Funeral Home, 211 West Main, West Plains, MO  65775.