Carnie Dwain (Darr) Hammond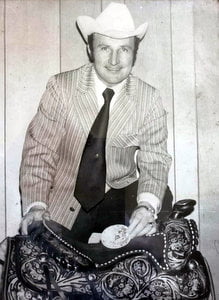 Carnie Dwain (Darr) Hammond, 86, went home to meet the Lord on September 29, 2022. Darr was born September 28, 1936 in Viola, Arkansas to Carnie A. Hammond and Rozella Cawvey Hammond. Darr graduated high school in Flint, Michigan after which he served four years in the United States Air Force, stationed at Elmendorf AFB in Anchorage, Alaska. On March 11, 1988 he married the love of his life, Sharon Hammond.
Darr worked for 28 years at the Detroit Edison coal fired Power Plant and Fermi Nuclear Power Plant. He worked in numerous supervisory capacities including weld inspector and as a metallurgist. His expertise in the field of welding was frequently commissioned by large industrial corporations throughout the U.S. and Canada. Darr and Sharon retired in 1993 to West Plains, Missouri.
While he was accomplished in his trade, his true passion was being an all-American cowboy. Born and raised on a farm in Arkansas, his father gave him his first horse "Lulu" at the age of 5 and from then on, the two were inseparable. He would ride it to and from the one room schoolhouse he attended in Salem, Arkansas until the 8th grade. At the young age of 15 he entered his first rodeo and over the course of 6 decades, competed in all 5 major events in almost every state in the country. In 1958 he became the first interstate Champion Calf Roper of Alaska, before it was even a state. In the 1960's he was the Midwest Cowboy Association (MCA) Champion Saddle Bronc Rider for 4 years in a row, the MCA All-Around Champion for two years, and president of the MCA for several years. After his retirement to Missouri, he went on to compete in team roping events until the age of 80. The relentless tenacity of his later years has been said by many to be an inspiration to amateur and seasoned cowboys throughout his career.
In 1987 he acquired his commercial and private pilot's license. He enjoyed flying for the next 30 years and recounted his first solo flight as the most thrilling highlight of his life. He often quoted his favorite poem, "High Flight":
"Oh! I have slipped the surly bonds of Earth; Put out my hand, and touched the face of God."
-John Magee
Survivors include his wife Sharon Hammond of the family home; six children: Brent Byrd and wife Crystal, Ft. Wayne, Indiana; Fred Byrd and wife Katheryn, Spartanburg, South Carolina; John Byrd and wife Brittany, Springfield, Missouri;  Michael Byrd, Little Rock, Arkansas; and Dawn Deroch, Taylor, Michigan. He also leaves behind ten grandchildren, numerous cousins, nieces and nephews. Darr is also survived by his good friend, team roping partner, and golfing buddy, Orvil Wilbanks.
While his accomplishments and adventures are too numerous to list in a few short paragraphs, his brilliance and wisdom will live on through those whose lives he's touched. He will definitely be missed by many.
Arrangements under the direction of Robertson-Drago Funeral Home.