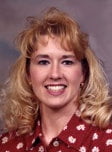 Funeral services for Carrie Lyn Womack, 44, West Plains, Missouri, will be held at 10:00 a.m., Tuesday, May 27, 2014, at First United Methodist Church, under the direction of Robertson-Drago Funeral Home.
Mrs. Womack died at 4:15 a.m., Thursday, May 22, 2014, at her home.
She was born June 26, 1969, at West Plains, Missouri, to Gale Thompson and Tanga Burk Thompson. She graduated from West Plains High School with the Class of 1987; she was a member of the First State Championship Zizzer Girls Cross Country Team and was an All-State Runner in track. She obtained her Associate degree at Missouri State University. On July 1, 1989, she was married at West Plains, Missouri, to Scott Womack.  She worked as a Clinic Coordinator for Riverways Support Services. She was a board member of the Missouri Council of In-Home Service and chairman of the Missouri Alliance for Home Care Awards Committee.   Carrie was a very loving wife, mom, daughter and friend, who touched and inspired many people throughout her life.  She loved being a mom and following her boys athletic activities. She enjoyed scrapbooking, crossword puzzles, flowers and being with her family. Mrs. Womack was a devoted Christian and was a member of the First United Methodist Church.
She is survived by her husband, Scott Womack, of the family home; two sons, Sam Womack and Jacob Womack, both of West Plains; her parents, Gale and Tanga Thompson, West Plains; one brother, Christopher "Buck" Thompson and wife, Billiejean, West Plains; father-in-law and mother-in-law, Jerry and Janet Womack, West Plains; two sisters-in-law, Frankie Harrill-Jones, husband, David and Angie Holloway, husband, Jason, all of West Plains; aunts and uncles, Tommy and June Thompson, Bob and Sonja Boudreau, David Smith, Dale and Carolyn Smith and Danny and Alice Smith, all of West Plains, Missouri; great-aunt, Hazel Bradley, Peace Valley, Missouri; and several cousins, nieces, nephews and one great-nephew.
Her grandparents, Russell and Helen Thompson, Ross Burk, Pollyanna Burk Claibourne, Cal Claibourne, Frank and Lottie Smith and E. N. and Lottie Womack, precede her in death.
The family would like to thank Dr. Charles Morgan and the oncology department for many years of care and support throughout Carrie's courageous battle.
Visitation will be held from 6:00 until 8:00 p.m., Monday at Robertson-Drago Funeral Home.  Burial will be in the Oak Lawn Cemetery.  Memorial contributions may be made to Riverways Hospice, and may be left at Robertson-Drago Funeral Home.